Youth International basketball tears in Nitra on day 7
---
---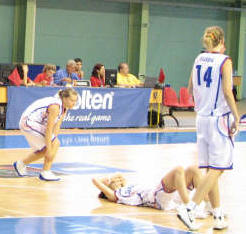 There were plenty of tears on day 7 of the youth international basketball tournament in Nitra, Slovakia.
The host's chance of contesting the last European spot for the U19 World Championship next season disappeared with three seconds left on the clock.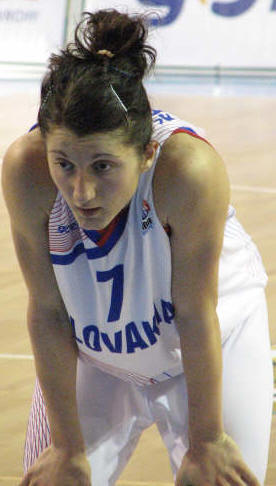 Tina Jovanovic (right) from Serbia dispatched a couple free-throws to give her side the victory (67-68). Jovanovic was the top scorer in the match with 19 points. She also had 14 rebounds.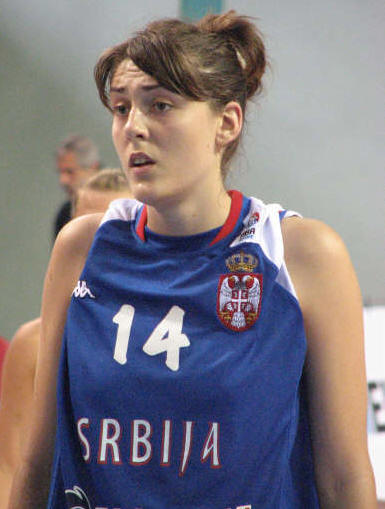 Martina Kissova from the Slovak Republic also had 19 points and was joined in double-figures by Klaudia Lukacovicova with 16 and Veronika Cernáková (left)with 11 points.

Tears for Poland and Romania
Poland had controlled their match against Spain for three quarters and led (48-44) going into the final period.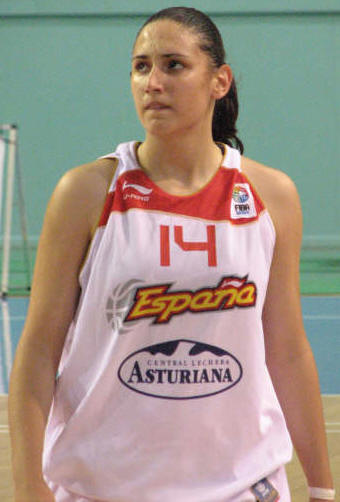 Spain went on a 25-3 run to start the final quarter as Cristina Ouvina and Alba Garcia (left) ran riot to regain the lead (69-51) and break the resistance of Poland.
Paulina Antczak and Oliva Tomialowicz (below right) hit between them 21 of Poland's points in the first half of the match to finish with 12 and 14 points respectively.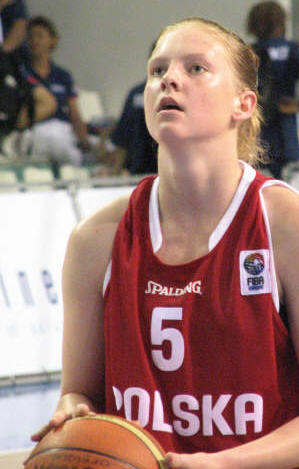 For Spain Garcia led the way with 15 points off the bench while Cristina Pedrals had 14 points and 4 assists. Ouvina finished with 12 points, 7 rebounds and 3 assists.
Romania' adventure in Division A lasted only one season as they fell to Italy (54-69). They led for only 24 seconds in the match and were never allowed to get into any rhythm.
The joy of winning bronze two years ago against the same opponents turned into tears of despair as they now drop back into Division B.
Lithuania crushed France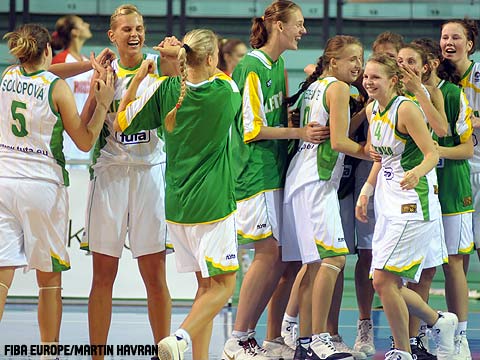 France had a disastrous first quarter they went 0-of-15 from the field and only managed 3-of-6 from the charity stripes. While nothing was going right for France, Lithuania took advantage to open a 15-point lead (18-3).
Maria Solopova's three-pointer during the first minute of the second period increased Lithuania's advantage to 20 points.
France's first points from the field came on their 20th attempt through Allison Vernerey. Laurie Datchy looked like she would bring France back into the game with back to back baskets.
Yet the recovery never happened as Diandra Tchatchouang and Myriam Igoufe were in early foul problems. Hence Grégory Halin had no choice but to take the players out of the game.
Giedre Paugaite took advantage of the extra space to compile 12 points and collect 6 rebounds as Lithuania went into the interval with a significant advantage (33-14).
France were not able to score from behind the arc. When they went inside they were forced back by the Lithuanian wall. Meanwhile Solopova showed France how to hit from behind the arc as her side's advantage increased (43-20).
Vernerey and Aminata Konate's efforts stopped Lithuania from ending the game as a contest during the third period. All the same Lithuania went into the final period leading by 20 points (48-28).
However the last quart turned into a formality for Lithunania as Aurime Rinkiviciute led her team to victory (68-45).
Lithuania's Rinkiviciute top scored with 22 points, added 9 rebounds and 4 assists. Solopova had 17 points, 8 rebounds and 6 assists while Paugaite finished with 15 points and 10 rebounds. Egle Siksniute also scored 14 points.
Laurie Datchy was France's highest scorer with 14 points. Vernerey had 12 points and 9 rebounds.
Victory for Russia at the wire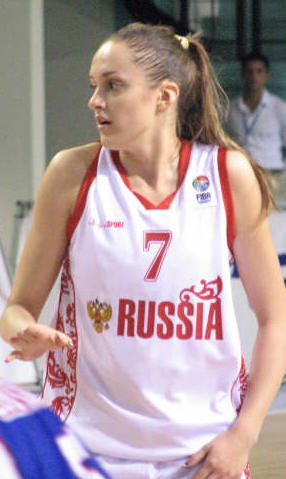 Russia and the Czech Republic produced a youth international basketball classic with the lead changing several times. The game was only decided in the last twelve seconds as
Tatiana Petrushina
(left) hit 2 free-throws to give Russia the victory (62-60). They are back in the final since 2004.
Petrushina top scored for Russia with 16 points and 8 rebounds. Alexandra Tarasova had a double double with 14 points and 16 rebounds.
Renata Brezinova had 13 points and 12 rebounds for the Czech Republic, while Pavla Svrdlikova added 11 points.
Other results from the semi-final round on day 7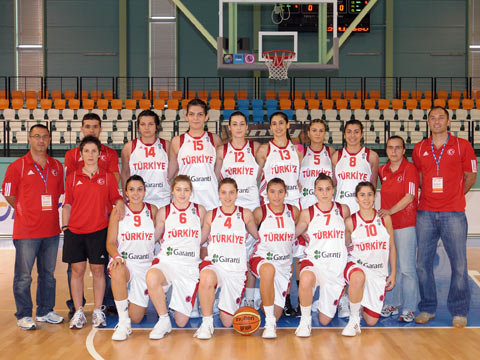 Turkey beat Bulgaria (87-57) and Sweden won against Ukraine (74-60).
Sweden will play Turkey in the classification game of 9th place while Bulgaria and Ukraine battle it out for 11th.
Belarus beat Croatia (73-61) in the last classification game and as a result top the group to take 13th place.
Italy finished in 14th place and will remain in division A next season. Romania in 15th and Croatia in last position are relegated to division B and will be replaced by the finalist of U18 European Championship Division B to be held in August.
---
Youth international basketball news from the U18 European Championship Women Division A Day 6
Youth international basketball news from the U18 European Championship Women Division A Day 5
Youth international basketball news from the U18 European Championship Women Division A Day 4
Youth international basketball news from the U18 European Championship Women Division A - Day 3
Youth international basketball news from the U18 European Championship Women Division A - Day 2
Youth international basketball news from the U18 European Championship Women Division A - Day 1
Return from Youth International Basketball news to "What's New" page
Return from U18 European Championship Women Division A Basketball news to youth international basketball index
Youth international Basketball picture credit from the U18 European Championship Women Division A:
Miguel Bordoy Cano
FIBA Europe - Official Team Pictures
Date created: 26 July 2008
---