France set the pace during the youth international basketball festival in Nitra
---
---
Grégory Halin
's record in youth international basketball is impressive. His attention to detail is well known. His side has already booked their ticket for the qualification round after an easy victory against Serbia (89-57).
Despite the domination of France in all sectors of the game, Halin still used the second half of the match to work on defence.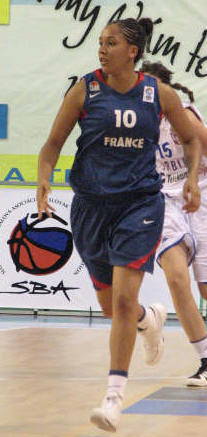 Margaux Okou Zouzouo
As for the match itself France were quick out of the starting blocks and quickly established a (6-2) lead. They never looked back and by the time
Myriam Igoufe
scored the last point of the first quarter France had stretched their advantage to 13 points (30-17).
France did not let up at the start of the second period. Within 90 seconds they had added 7 more points to their counter while only conceding a single point (37-18). Halin then used this opportunity to start turning his bench.
Although France controlled the pace of the game, Halin was not satisfied with what was happening on the court and called a time-out. His words were clear and the reaction was immediate as France scored 9 unanswered points (48-25).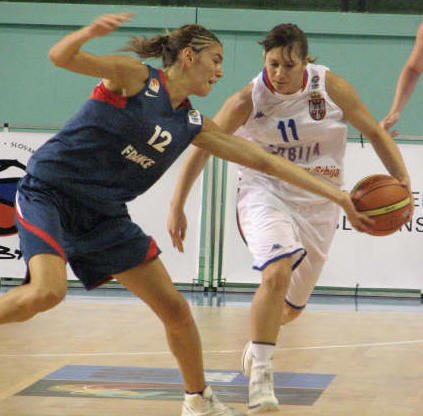 AllisonVernerey and Milana Zivadinovic
Both sides started to struggle a bit towards the middle of the second quarter before a late flourish of points came in from both sides. France went into the locker room with a comfortable lead (53-31).
The second half of the match was about defence for France. But it started with offensive actions from Diandra Tchatchouang and Allison Vernerey as France approached the 30-point mark (62-33) early in the third quarter.
Serbia had not given up and France went into the final period with a 21-point lead (71-45).
The final quarter was just a formality for France. Laurie Datchy concluded the scoring for her side with a three-pointer followed by a lay-up making it (89-57) for France.
All 12 French players scored again with Allison Vernerey leading France with 19 points and 12 rebounds. Diandra Tchatchouang added 17, Pauline Thizy and Laurie Datchy had 12 points apiece.
For Serbia Tina Jovanovic scored 11 and Nevena Jovanovic 10 points.
---
France U18 match against Sweden on Day 1
Return to youth international basketball index
picture credit:
Miguel Bordoy Cano

Date created: 20 July 2008
---