2010 FIBA U17 World Championship for Women Groups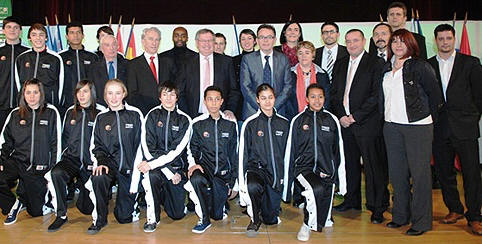 France will open the 2010 FIBA U17 World Championship for Women in preliminary Group A with a match against the USA on Friday, 16 July 2010.
France then play Turkey, Russia, Japan before closing their preliminary round against Canada on Wednesday, 21 July.
GROUP A
GROUP B
France
Argentina
Canada
Mali
Japan
Spain
Russia
Australia
Turkey
Belgium
USA
China
The 12 teams have been split into two groups of six teams. The competition format is explained in a previous article.
France need to finish in the top 4 of Group A to qualify for the quarter-final.
If they fail in the top then they will have to play in the 9th-12th place classification round.
The preliminary round will be played in the following locations:
Group A: Rodez Amphitheatre, Rodez
Group B: Palais des Sports, Toulouse

The
French Basketball Federation
(Fédération Française de Basket Ball or FFBB) are also using this event to promote sustainable developments projects and ecological friendly initiatives.
They will be accommodating the officials, delegates and players as close to the venues as possible so that they will be able move around on foot.
Also an agreement with the French railway (SNCF) means that the players will travel by train between Toulouse and Rodez.
GO Back to the top of the page
---
Return from international youth basketball news to FIBA international youth competition index
Go to Women Playing Basketball In France Home Page
---
picture credits:
FFBB
Date created: 12 February 2010
---