Summary of the semi-final matches of the FIBA U17 World Championship for Women
France 59-49 Belgium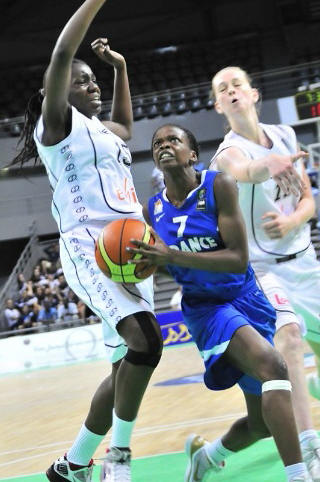 The hosts France have won against Belgium (59-49).
Only the second quarter saw the French team being overtaken by their opponents (20-21).
With Olivia Epoupa (left), Christelle Diallo and Alice Nayo, the French attack was too much for the Belgians.
Epoupa (Paris Basket 18 product), the youngest and smallest player of the team, did not only have a double-double with 18 points and 11 rebounds but was the leader of both sides in points and rebounds.Diallo was the only other player in double digits with 16 points.
For Belgium Emma Meeseman and Julie Vanloo were leading the scoring for their side with 12 and 11 points respectively.
USA 97-74 China
The USA won against China (97-74).
Meng Li from China let her side take the lead going into the second half through 4 three-pointers. Yet the USA were soon back in front after the first-half three-point blitz by China was less efficient.
The captain of the USA, Ariel Massengale top-scored for her side with 22 points. Breanna Stewart had a double-double with 17 points and 11 rebounds.
For China Li poured in 22 points.
---
Remaining results:
Mali 48-82 Canada
Turkey 48-62 Argentina
Russia 72-52 Spain
Japan 95-92 Australia

---
Return from looking back on the quarter-finals
Return from looking back on days 4 and 5
Return from looking back on days 2 and 3
Return from looking back on day 1
Return from international youth basketball news to FIBA international youth competition index
Go to Women Playing Basketball In France Home Page
---
picture credits:
FIBA
Date created: 24 July 2010
---