Youth basketball European Championships
2012 Youth Championships venues decided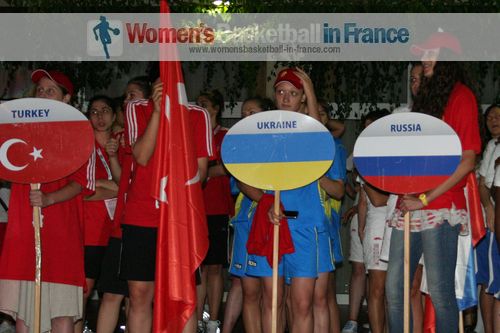 The FIBA Europe international youth basketball calendar for 2012 will see them organise 14 European Championships in 11 countries during a 46-day period from 12 July 2012 until 26 August 2012.
In addition to the FIBA Europe events, the two World Championships for U17 will also be contested in Europe.
The Netherlands are the hosts for the women's U17 World Championship event while Lithuania will stage the men's event.
France U17 women qualified as hosts for the world championship in 2010 but lost to the USA (62-92) in the final and failed to qualify for the 2012 edition after finishing 7th during the 2011 U16 European Championship for Women Division A.
In 2012 France will again play in Division A in all age groups during the European Championships. France U17 men will also take part in the world championship.
At the time of writing this article the hosts for the U20 European Championships for Men Division A has not been confirmed.
Host nations, venues and dates for all the 2012 events:
WOMEN
U20 European Championship Women, Division A, 16-26 August, Hungary

U20 European Championship Women, Division B, 16-26 August, Klatovy, Czech Republic

U18 European Championship Women, Division A, 26 July - 5 August, Romania

U18 European Championship Women, Division B, 26 July - 5 August, F.Y.R. of Macedonia

FIBA U17 World Championship for Women, 17-26 August, Netherlands

U16 European Championship Women, Division A, 12-22 July, Hungary

U16 European Championship Women, Division B, 2-22 July, Tallinn, Estonia

U16 European Championship Women, Division C, date not confirmed, Gibraltar

MEN
U20 European Championship Men, Division A, 12-22 July, venue not confirmed

U20 European Championship Men, Division B, 12-22 July, Sofia, Bulgaria

U18 European Championship Men, Division A, 9-19 August, Vilnius/Klaipeda, Lithuania; Liepaja, Latvia

U18 European Championship Men, Division B, 9-19 August, Bosnia and Herzegovina

FIBA U17 World Championship for Men, 29 June - 8 July, Latvia

U16 European Championship Men, Division A, 19-29 July, Latvia/Lithuania

U16 European Championship Men, Division B, 19-29 July, Brasov, Romania

U16 European Championship Men, Division C, date not confirmed, Gibraltar

GO Back to the top of the page
---
Return from International Youth Basketball competition dates and venues to FIBA general news
Go to Ligue Féminine de Basket 2011-2012 page
Leave LFB basketball news - Season 2011-2012 page and return to home page

Picture credit:

womensbasketball-in-france.com

Date created: 26 November 2011

---