Géraldine Robert is playing basketball abroad with C. A. Faenza
---
---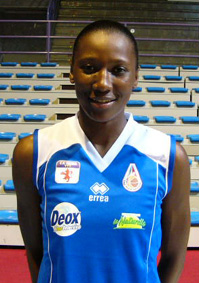 Géraldine Robert
is playing basketball outside France for the second time in her career.
Before she started her professional career in 2005, she played basketball in England and Wales.
Robert was actually studying while she was in England so she was not taking basketball seriously.
But while competing in the EuroCup with the Rhondda Rebels from Wales she met Cathy Melain.
Melain introduced her to her agent and in 2005 Robert was back in France with Racing Strasbourg.
Strasbourg only won one game that season in the LFB and were relegated. However Robert was impressive and was signed by Villeneuve d' Ascq
She spent three seasons with the club and was one of the most consistent players in the LFB.
Her performances in the EuroLeague games got her into the EuroLeague all star game.
Robert, who is also a mother, has one major condition for playing abroad. It is that the club is not too far away from an airport.
Club Atletico Faenza Pallacanestro were interested in Robert and they met the criteria.
Since the beginning of the season, Robert has made a big impact in the Italian league with her new club.
---
Return to French basketball players abroad index page
Return from playing basketball abroad news to "What's New" page
Picture Credit:

Club Atletico Faenza Pallacanestro

Date created: 03 November 2009
---
---