Basketball news
Update on French players in NJCAA
There are a number of players from France making local basketball news stories in junior colleges and other institutions in the USA. We have followed some of the players, especially formers players from the CFBB.
(One way for students who have finished high school to continue their higher education is the junior college system.
The National Junior College Athletic Association (NJCAA) is the governing body for sports at this level.)
This article is not a complete list of all the players from France but of players that we have followed some time in their career.
In the summer of 2007 Marion Lemonnier was on top of the youth basketball world after picking up a gold medal at the U16 European Championship for Women Division A. She then moved from her club AL Gerland Mouche Lyon to the CFBB for three years of elite youth basketball.
However she only played for France once more in the summer of 2008 and left the CFBB in 2010.
The NCAA academic qualification rules are strict and Lemonnier did not make the requirements. Yet she had some luck and in January 2011 she enrolled at the Howard County Junior College.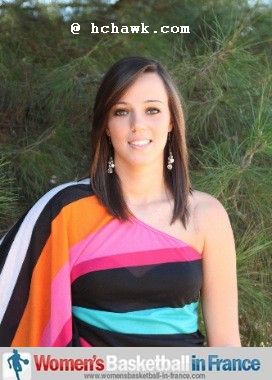 Lemonnier did not play basketball last season (2010-2011) but was a member of the team that finished the season with 19 wins and 11 defeats.
If Lemonnier has enough credits she may transfer to NCAA University next year.
Fanny Cavallo is another product of the CFBB (2005-2008). She played for France U16 in 2006 during the European Championships but was not selected neither at U18 nor U20 level. After leaving the CFBB she moved to Aix-en-Provence in 2008-2009 but did not play many games for the first team.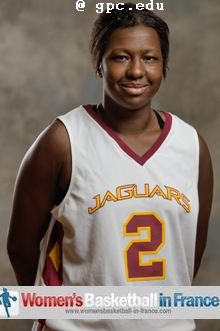 For the 2009-2010 season she moved to USO Mondeville and again did not play often for the first team. So she decided to leave France for the USA.
In 2010-2011 she attended College of Southern Idaho, also a junior college. She transferred this year (2011-2012) to Georgia Perimeter College.
Her school played in the Georgia Collegiate Athletic Association (GCAA) and finished the season on a high by winning the championship game. Cavallo picked up the final player of the week award for the season with back to back double-double performances in points and rebounds.
The season may not be over as the school is waiting on confirmation if they will be accepted in the NJCAA national finals.
Cavallo who played in all 30 games has now exhausted her eligibility at this level and must move into either NCAA or NAIA schools or return to France.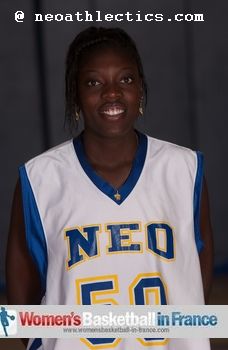 Wilka Montout
has taken the long route in getting to play basketball in America. She started with the youth academy in Nice, then initially joined Rennes to play in NF1 in 2008-2009. She did not play many games with the first team but continued to play with the second team.
In 2010 she crossed the Atlantic to join the Northeastern Oklahoma A&M college. She has been in all the recruiting basketball news recently because of her performances for her college. She has just picked up the Oklahoma Collegiate Athletic Conference Most Valuable Player of the year award.
In 29 games played so far she is averaging 18.3 points, 7.6 rebounds and 1 block. Her team are currently playing in their conference tournament and hoping to qualify for the national finals.
Montout's NJCAA eligibility comes to an end once her season is over. In order to continue playing basketball she must transfer for her remaining two years of eligibility to a four-year college programme.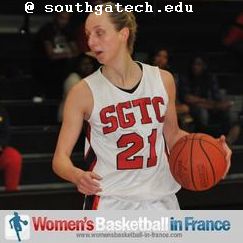 Manon Cherubini played for US Laveyron in LF2 during the 2010-2011 season and is now playing for Lady Jets of the South Georgia Technical College, which plays in the GCAA conference, the same conference as Cavallo.
Her team went 18-0 in conference play and finished the regular season on a 17-game winning streak. However their only loss in the conference came in the final of the GCAA tournament to Georgia Perimeter College.
Cherubini's school as conference regular season champions with an 18-0 record have qualified for the regional final that starts on 10 March.
What is the story from the two ladies from Strasbourg?
Jodie Cornelie
is currently at Oak Hill Academy in Mouth of Wilson working on the missing credits as reported by local basketball news information services.
Oak Hill Academy is an American prep school that also has a good basketball programme. Cornelie has resigned with the University of Dayton and provided all goes well she will be playing for them from next season.
Another player to pass through the Illkirch-Graffenstaden youth programme who is currently studying in the USA is Stéphanie Cabald (known as Steph Cabald in her university) who is attending East Stroudsburg University.
The Warriors play in the NCAA Div II Pennsylvania State Athletic Conference (PSAC). Cabald who is in her second year at the university was red-shirted in her freshman season.
The Cabald and Cornelie family live less than five miles from each other in the suburbs (districts) of Strasbourg.
---
Return to basketball news from players abroad
Go to Ligue Féminine de Basket 2011-2012 index page
Leave Ligue Féminine de Basket - Season 2011-2012 page and return to home page
Return to top of NCAA basketball news
Basketball news picture credits:


hchawk.com
gpc.edu
neoathletics.com
southgatech.edu


Date created: 09 March 2012

---