NCAA basketball news
Another Sweet 16 for Vernerey
ACC rival, Tjasa Gortnar jumping for joy
While the elimination of Duke men in the first round filled basketball news columns around the world, the qualification of the Duke women into the Sweet 16 was expected.
Although Brittney Griner's dunk was taking up round 2 news headlines, French women's basketball is still represented in the oncoming Sweet 16 by Allison Vernerey (below in picture) as March Madness continues.
In game 103 of her Duke career, Vernerey played 11 minutes, scored 4 points, while picking up 3 offensive rebounds as her team beat number 7 seeds Vanderbilt (96-80).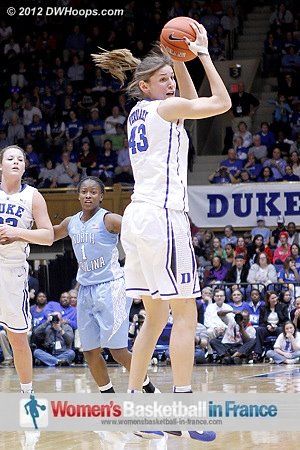 Duke will have to travel to California (Fresno Regional) for the next round of games. Their opponents for the Sweet 16 tie is number three seeds St. John's Red Storm from the Big East conference.
St. John beat UCONN (Connecticut) this season in conference play while Duke lost in their non-conference encounter with UCONN.
The NCAA competition adventure for Nina Déal by cheering up her team-mates on the court has come to an abrupt end when her side, the Blue Hens (Delaware) were eliminated by number 8 seeds Kansas State (64-70) after having conceded only one match all season.
Kansas State had a roller coaster season with 13 defeats and a 9-9 conference record but they have justified their inclusion in the NCAA tournament with this victory.
This also ends the Elena Delle Donne show for this year. Delle Donne from Delaware had scored 39 points in the first round and added 34 in defeat to her seasons's total of 927 points.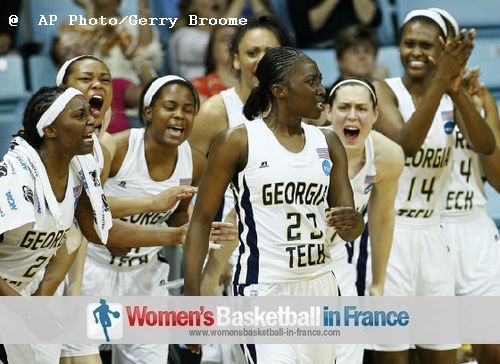 All the other French players we cover in the NCAA and NAIA who were involved in post-season play have all retuned to the class room as their seasons ended with first round defeats.
One other European player and ACC conference rival of Allison Vernerey though is having fun in the NCAA tournament: Slovenian international Tjasa Gortnar alongside her Swedish team-mates Danielle Hamilton-Carter and Frida Fogdemark by qualifying with Georgia Tech for the Sweet 16.
This is the first time in the history of the Yellow Jackets that this has been achieved.
---
Return to basketball news from players abroad
Go to Ligue Féminine de Basket 2011-2012 index page
Leave Ligue Féminine de Basket - Season 2011-2012 page and return to home page
Return to top of NCAA basketball news
Basketball news picture credits:


All the images and videos on this page are courtesy of the universities of their student athletes.

AP Photo/Gerry Broome
DW Hoops


Date created: 21 March 2012

---