Isabelle Yacoubou-Dehoui to continue
playing basketball abroad in 2011-2012
In reality
Isabelle Yacoubou-Dehoui
started playing basketball abroad in 2003 when she arrived in France.
She was born in
Godomey in the Republic of Benin
in 1986 and was a promising shot-putter until she was introduced to basketball in 2000.
Her progression was remarkable and in 2003 she arrived in Tarbes, France and joined the Basketball Academy (Centre de Formation).
In her first season Yacoubou played with the U18 team and won the French Cup (Coupe de France) in 2004.
The following season she was a member of the second team that became the NF3 champions of France.
By September 2005 she became a member of the first team and made her début in the LFB.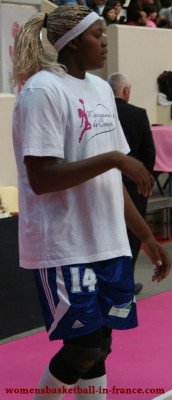 In five seasons she played 133 games in the LFB and walked away with the LFB title in her final game for the club in 2010 as well as with her second LFB player of the year award.
At the Open LFB 2007 she was the catalyst in modifying the rules concerning the medical replacement of players injured on national duty when her replacement almost stopped the start of the 2007-2008 season.
Yacoubou (in picture) played for France U20 in 2006 and picked up a bronze medal and a MVP award during the FIBA Europe European Championship Women Division A.
In 2007 she then won another bronze medal, this time in the U21 FIBA World Championship Women. She also made her début in the French senior team and played at EuroBasket 2007.
She was a member of the French team that won gold at EuroBasket 2009. An injury kept her out of the French team in 2010.
In her first season playing basketball outside France, she picked up an Italian Championship medal with Beretta-Famila Schio.
So after one season in Italy, she will continue her professional basketball career in 2011-2012 playing for Spanish club side Ros Casares.
---
Return to French basketball players abroad index page
Return from playing basketball abroad news to "What's New" page
Return to the top of page
---
picture credits:
womensbasketball-in-france.com


14 May 2011
---