Ros Casares enjoys playing basketball for the Spanish Super Copa
---
---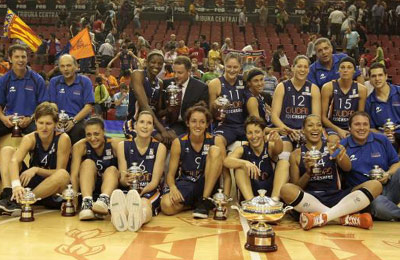 This season Krissy Bade (right) is playing basketball in Spain and faced three former stars from the French LFB.
Belinda Snell and Laia Palau who had played for Bourges Basket as well as Ljubica Drljaca who played at Villeneuve d'Ascq last season were on the victorious Ros Casares team.
Ros Casares have won the trophy for the last four seasons and a total of six times in its seven-year history.
The Super Copa, as it is known is Spain, is the season opener between the national champions and the cup winners from the previous season.
Ros Casares won both competitions last season. So Ibiza as cup runners-up qualified for the show piece.
Ros Casares had home advantage and went into the final quarter leading (52-39). They appeared to have the game all wrapped up leading (62-46) with six minutes left to play.
However Ibiza, inspired by Shannon Johnson (15 points) and hard fighting Bade, scored 13 unanswered points in four minutes.
The last couple of minutes were tough on both coaches as the game was finally decided at the free-throw line for Ros Casaras to defend the title (68-64).
Erika de Sousa led the scoring for Ros Casares with 16 points. Snell and Drljaca scored 10 and 2 points each.
Bade finished with 6 points and 4 steals. Her team-mate
Alicia Lopez-Verdu who also had played in France with Saint Amand (2005-2007) scored 11 points.
Game Box Score
---
Return to Women playing basketball blog
Basketball picture credits:

FEB.es
Palacio de Congresos de Ibiza

Date: 07 October 2009

---
---