French basketball players abroad in the Spanish LFB
---
---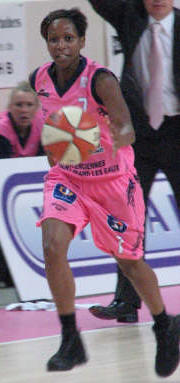 Bintou Diémé
(left) joins the French basketball players abroad in Spain for two months.
She is playing for Joventut Mariana as medical cover for Laura Villaescusa.
Krissy Bade and Alison Feaster are the two other women playing basketball in Spain this season from France.
Bade ended up playing for two clubs in Italy last season, starting at Gescom MC1 Viterbo and finishing at ACP Livorne.
This season she is playing for Club Bàsquet Puig d'en Valls that is located on the island of Ibiza and is known locally as PDV-Ibiza.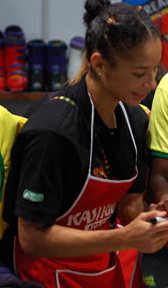 This will be Bade's second season playing basketball outside France.
Alison Feaster (right) is an American who qualified for French citizenship after spending more than five years playing in France. Last season she played basketball in Italy.
She returns to Spain and is playing for Mann Filter Zaragoza, better known as Club Deportivo Basket Zaragoza.
Ljubica Drljaca who had played in France since 2000 has joined Spanish champions Ros Casares.
She meets up with former Bourges Basket player Laia Palau. They played together for Bourges during the 2004-005 season.
---
Return to French basketball players abroad index page
Return from playing basketball abroad news to "What's New" page
Picture Credit:

womensbasketball-in-france.comMann Filter Zaragoza

Date created: 03 November 2009
---
---