Going through NCAA to successfully
study and play

Katrin Chiemeka, Davidson College and Allison Vernerey, Duke University play NCAA basketball for their respective universities in North Carolina, USA.

Both student-athletes reside in the Alsace region of France, less than 100 miles from each other and were team-mates for the Alsace regional team in 2005.
Today as students they are both in their Senior year (2012-13) and on course to graduate while they hold important roles as athletes in their respective teams.
The two players have made the best of the opportunities offered by studying in America: Vernerey has won many academic accolades for her participation with Duke in basketball and has also invested a lot of work for a cancer research project.

Chiemeka, on the other hand, helps students in Davidson to find their way through the foreign language jungle while also picking up academic awards in defending her team's colours on the court.

Time to play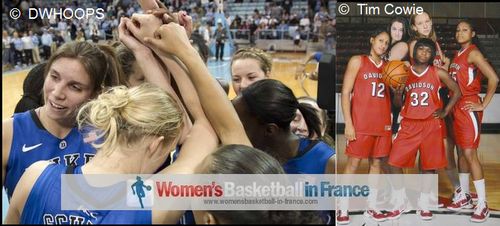 In 2009 wbbif published an article about four Freshmen from France coming to play Division 1 NCAA Basketball and their history. Since that time only Diandra Tchatchouang has returned to France.
Vernerey's first two years with the Blue Devils resulted in two ACC (Atlantic Coast Conference) regular season titles and two NCAA Elite 8 appearances. However injury prevented her from representing France at U20 level at the European Championship for Women.
In the case of Chiemeka, an injury in the pre-season of her Freshman year meant her college career got off to a slow start. While no honours were won with Davidson, she picked up a U20 European Championship medal.
For both players their first season as upper-class men was interesting as their functions within the team evolved.
Although playtime had been slightly reduced from previous seasons for the gentle giant Allison Vernerey (in picture), her role on court progressed to become more efficient as an offensive threat. On 20 December 2011 her fan club was treated to something special.
She fired in a game high 22 points in 19 minutes while also dishing out 4 assists. What made her performance excellent was that already her first shot was on target and then Vernerey finished the night with 10-of-11.
Vernerey praised her team-mates after the game instead of dwelling on her personal achievement: "It was a good night. I think, in general, the energy was really high, which I was able to feed off, and it really helped me keep going. I think it was a really good group effort."

In the case of Katrin Chiemeka (in picture in red), her big game came on 18 February 2012 when she fired in 16 second-half points with 6-of-7 shots to finish with 19 points to help the Davidson Wildcats beat Appalachian State and move to the top of the conference standings.
When interviewed about her performance after the game by a journalist from the Charlotte Observer newspaper, Chiemeka simply said: "We knew they'd play a triangle-and-two (defense) ... and that other people would be open," while also adding: "It's not my role on this team to score, but I didn't hesitate. My team-mates told me to shoot."
Vernerey's junior year with the Blue Devils had one setback with a surprise elimination during the quarter-final of the ACC tournament.
However with the ACC regular season conference title and a NCAA Elite 8 appearance while also being allowed - during the NCAA tournament run - to promote her cancer research programme to potential sponsors on the radio, her third year was not that bad.

Whereas Chiemeka helped the Wildcats in winning their first ever regular SOCON (Southern Conference) season title supported by friends and her foreign language course students while also gaining the inspiration award with the Davidson Wildcats and pushing her College to the top 100 in the RPI (rating percentage index) standing from the 344 Division I universities.

Besides coming from France and being student-athletes in the USA, Chiemeka and Vernerey have even more in common on the court.

Leslie Urban, the Davidson game announcer, described Chiemeka as a fireball who did all the "nitty-gritty" things for her side to get offensive as well as defensive plays going, characteristics which also apply to Vernerey although the positions these two players hold are not the same.
Quick hands, eye for rebounding especially on the offensive end and the way Chiemeka and Vernerey defend by getting under the skin of their opponents, make them alert players.
The two of them also have similar work ethics. During their summer break they continued working by utilising the opportunities of their respective Colleges to advance in their studying. Venerey prepared her cancer event for the fall while Chiemeka went off to Buenos Aires to promote Davidson College to also work in the Radio Nacional de Buenos Aires utilising her multi-language and communication skills.
Both of them only came over to France for a short visit: Vernerey with the Blue Devils for a home coming while Chiemeka went on to keep in shape by taking part in a half-marathon.
Having well prepared for their final Senior year, expectations by their respective basketball coaches are high although Chiemeka and Vernerey also continue to strive in their academic endeavours.

---
Visit our playing basketball abroad section

Visit our home page
Visit our "What's New" page
NCAA picture credits:
Duke Photography
DW Hoops
Tim Cowie
Jeffrey A Camara

Date created: 21 November 2012
Like this page / Aimez cette page