Who is Who
One on one with Diandra Tchatchouang
When it comes to who is who in French basketball then Diandra Tchatchouang's name comes into one's mind even though she has not started her professional career yet.
Some background information about Diandra
Tchatchouang's development in basketball started with CO Courcouronnes in Paris. Although two years younger than her team-mates she was a member of the team that became U15 (Minimes) French champions in 2004.
She had also been admitted into the Pôle Espoir Ile-de-France for basketball.
In 2005 she played for Paris Basket 18 and won again the French Championship. However the big title came with the regional team from the Ile de France that won the French inter-regional title in 2005.
Tchatchouang averaged 16.2 points in that competition hitting 62 percent of her shots to become the player of the tournament.
Her youth international career started in the summer of 2005 playing alongside the 1989 generation of players in the U16 European Championship.
Her club career ended as she moved to the CFBB in 2005. She spent a total of four years at the CFBB. In 2009 she then crossed the Atlantic Ocean and spent two years at Maryland University studying and playing basketball.
While Tchatchouang continued to play international youth basketball for France, in 2009 she was also called up to a senior team training camp.
What's next for Diandra
Two years ago Tchatchouang was in all the main basketball magazines in France. This was an achievement because these publications concentrate on men's basketball.
Yet what was intriguing to us most was the interviews she had given to career services in which she spoke about the importance of education. At that time she was just 17 and yet she was telling people Sport was good but one should not forget about school and learning.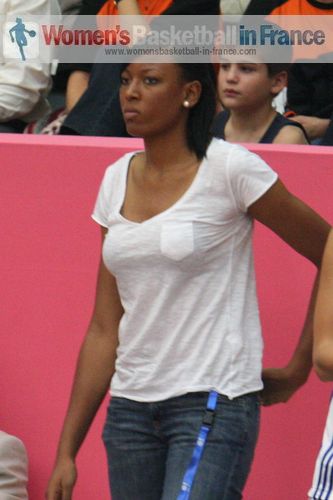 A little of two years later, meeting "Diandra Tchatchouang" at the Open LFB we spoke about education and not basketball.
She is not 100% sure of what she will do in the future but she knows exactly what she wants to learn right now. Her two years of student athlete life in America has helped her in focusing on her needs.
At the moment she is continuing her language studies and provided all goes well then next year she should enter business school.
Tchatchouang has not played for a senior club and this will be her first time in the professional arena. Unfortunately she hurt herself in, what turned out to be, her last game in the NCCA and is currently in rehabilitation.
As much as she would like to play basketball right now Tchatchouang is aware that she cannot rush and is doing everything to be ready when the time arrives to play. Once fit she has no fixed objectives for the future but hopes that all the hard work will take her to the highest level possible.
Who is who in having helped Diandra Tchatchouang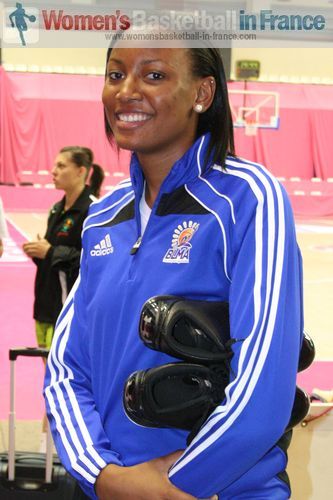 Although the big media outlets may have forgotten her, she has not forgotten the clubs, coaches and players that she played with.
She was full of praise for the club and coaches from CO Courcouronnes who had taught her the game.
Although she played just one year for Paris Basket 18, she said it was obvious that the effort of the club in teaching basketball was working with so many players still playing the game at a good level.
Today four members of the PB 18 that had won the title with Diandra are on rosters with teams at the Open LFB.
In addition she cannot forget the work of Michel Oliveri and Stéphane Rollée while she was at the Pôle Espoir Ile-de-France.
While reflecting you could see the smile on her face and her looking forward to play against them soon.
What about the Ligue Féminine de Basketball
In the two seasons she has been away from France, she believes the LFB has changed for the better.
The return to the LFB of Céline Dumerc, Edwige Lawson-Wade and Audrey Sauret is great for the image of the championship and very positive for women's basketball in France.
---
return to who is who index page
Go to Ligue Féminine de Basket 2011-2012 index page
Leave Ligue Féminine de Basket - Season 2011-2012 page and return to home page
Return to the top of who is who page
Who is Who picture credits:


womensbasketball-in-france.com


Date created: 30 September 2011
---