Playing basketball: Jodie Cornelie,
ready for the Dayton Flyers

14 months ago we wrote about Jodie Cornelie moving to play basketball in the USA after 11 years in France. Although she was signed to join the University of Dayton, she had to spend first a year at an American high school mainly working on her English skills.
We met up with Jodie and her father Marcel during the U20 European Championship for Women Division A in Debrecen, Hungary and spoke about her journey from her local club in France to Dayton.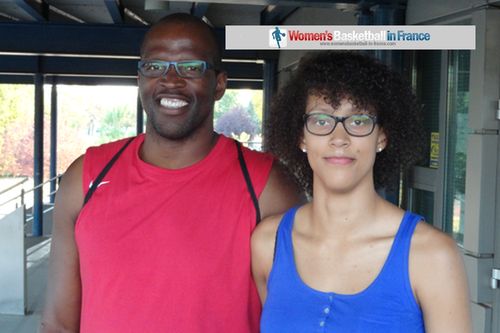 When Jodie started to play basketball at her local club it was purely a sporting activity and nothing more. Her father who had played basketball encouraged her to play but did not bother teaching her any of the fundamentals.
While Jodie was much taller than all the girls around when the Pole Espoir for Basketball in the Alsace restarted in 2005 she was admitted although she was a year younger than all the other players. Allison Vernerey who attends Duke University was also a member of the same programme.

Marcel Cornelie explained before entering the academy she did not have a shooting game and he noticed the progress she had made during her time at the academy.
However it was only after she was admitted into the CFBB that her family started thinking about her future basketball career.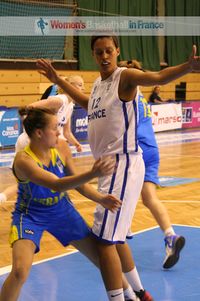 Jodie had set an academic objective to pass her French Baccalaureate with honours while her parents studied the possibilities of continuing playing basketball at a good level while pursuing higher education.

After Jodie played for France during the U17 World Championship for Women in 2010 she came onto the NCAA recruiting radar screen.
Jodie's father further explained that they looked at the offers and did a lot of research. They set their own criteria of choosing certain schools.
In the end it was up to Jodie to select her university.

Yet as many students from France have found out that the NCAA academic rules are complicated, Jodie was also required to spend a year in high school for academic reasons.
She used the time to work on her English verbal skills.
She had a good laugh when we discussed the after-match interview with FIBA Europe during the U18 European Championship last year in which her team-mates had hijacked the interview.

U20 European Championship:

Playing basketball for the national team is something she enjoys. Despite playing at the 3 spot (small forward) at high school all year she made the final roster for the French U20 team in the 5 spot (center/pivot).
The U20 championship is much more difficult than the U18 championship because a lot of team rosters contain full time professional players.
Some of the smaller basketball nations that do not have a "professional championship" roster are made up of players with USA college experience.

The French team with the exception of Jodie was made up of players with professional contracts.

During the video interview Jodie was pondering why her shooting numbers were down on previous years. But she did not take into consideration that her team-mates had spent the whole year playing senior basketball. This gave them a bigger advantage for the physical nature of U20 basketball.

In the video interview Jodie introduces her father, talks about the European Championship, her year at Oakland and her excitement for playing basketball for the University of Dayton this year.

---
Picture credits:
womensbasketball-in-France.com

Date created: 29 August 2012
Like this page / Aimez cette page