Playing basketball abroad: Sandra Le Dréan stays in the Czech Republic
---
---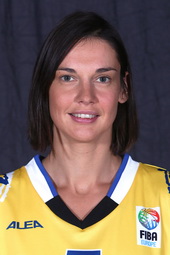 Sandra Le Dréan started playing basketball in the Czech Republic during the 2006-2007 season with
ZVVK USK Praha
(Prague) and is still with the organisation today.
In her first season at the club she scored 18 points when her side ended the 256-game winning streak of Sika Brno in overtime on the 10 February 2007.
Brno's winning streak lasted nine years. At the end of the season, her contract was extended for two more seasons.
ZVVK's long wait for a national championship title came to an end last season (2008-2009) when ZVVK became champions. It was a difficult season for Le Dréan who was injured in December and did not play again for the rest of the season.
She signed a contract extension for another season and is back at the club and is now wearing jersey number 5.
Le Dréan decided to end her international career in 2008 and since then concentrates on club basketball.
---
Return to French basketball players abroad index page
Return from playing basketball abroad news to "What's New" page
Picture Credit:
ZVVK USK Praha

Date created: 06 November 2009
---
---