Edwige Lawson-Wade is always playing basketball abroad
---
---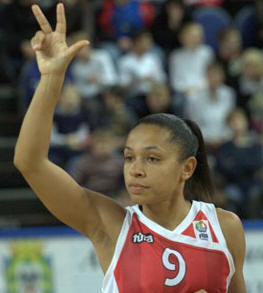 Edwige Lawson-Wade
has been playing basketball professionally in Russia since 2004.
She played for the same organisation despite its change of name until 2009.
In this time she won two Russian championships and three Russian cup medals. She also won the EuroLeague Women in 2006 and three club world titles.
When she joined the Russian club in 2004 the side was called VGM-SGUA. In 2006 the club changed its name to CSKA Samara. When the club relocated to Moscow in 2007 they became CSKA Moscow.
Lawson-Wade is currently on a three-month contract with Spartak Moscow Region and has won a FIBA Europe SuperCup medal.
Lawson always wanted to play in the WNBA. In 2005 she got her first chance and played two games for New York Liberty. She was then released but soon found her way to Houston Comets where she finished the season.
She returned again in 2006 and played for Seattle Storm. The following year she skipped the WNBA to play for France at EuroBasket 2007.
She returned to the WNBA in 2008 with San Antonio.
San Antonio Silver Stars made it to the WNBA final but were beaten by Detroit. Lawson played again in San Antonio in 2009.
Since 2008 Lawson-Wade and Sandrine Gruda are the only French players participating in the WNBA during the European off-season.
Before Lawson-Wade left France she won 3 French championship, 5 French cup and 2 EuroLeague titles.
She also won silver and gold at EuroBasket 1999 and EuroBasket 2001 and played for France in the 2000 Olympic games.
---
Return to French basketball players abroad index page
Return from playing basketball abroad news to "What's New" page
Picture Credit:
FIBA Europe

Date created: 06 November 2009
---
---