Rivas Ecópolis lift La Copa de la Reina
for the first time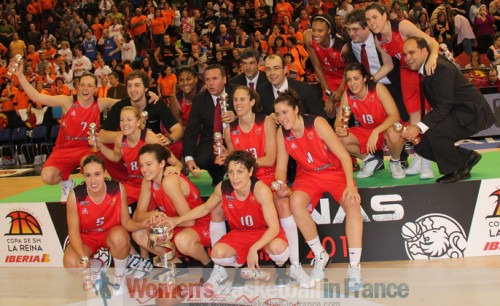 Since 2007 La Copa de la Reina has been the property of Ros Casares. So playing at home they came into this final as favourites despite struggling in the semi-final.
However Rivas Ecópolis with two formers players from Ros Casares won the 49th edition of the Queen's Cup (63-59) in a dramatic fashion.
The two teams were evenly balanced all through the game with neither side able to dominate.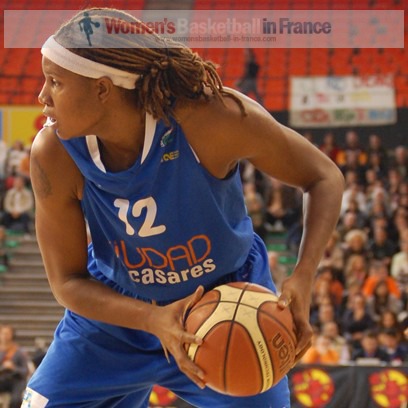 With six minutes left to play and the game tied (54-54) both teams stepped up intensity. They remained tied (56-56) until Rebekka Brunson (in picture) from Ros Casares broke the deadlock with a 2+1 play.
However money-time favoured the guests from Madrid with Anna Cruz and Dewanna Bonner doing most of the scoring.
Ros Casares: Laia Palau 8, Marta Fernández 4, Katie Douglas 10, Rebekka Brunson 15, Nicky Anosike 5, Jana Vesela 6, Cindy Lima 0, Edwige Lawson-Wade 9, Nuria Martínez 2
Rivas Ecópolis: Elisa Aguilar 8, Anna Cruz 7, Amaya Valdemoro 12, Dewanna Bonner 21, Courtney Paris 10, Laura Nicholls 3, Laura Herrera 0, Clara Bermejo 0, Linnea Lilejstrand, Vega Gimeno 2
Former French international Edwige Lawson-Wade went 3-of-4 from behind the arc for Ros Cosares while former Bourges Basket star Laia Palau finished with 9 points.
What happened in the semi-finals the day before:
Ros Casares trailed Mann Filter Zaragoza (27-45) at the interval and looked down and out.
However they picked up during the second half and during an exciting final quarter outscored Zaragoza to win (68-66).
Allison Feaster-Strong, Bulgarian international Jacklin Zlatanova and Serbian international Ines Kresovic - who all have played for clubs in France - were in action for Mann Filter Zaragoza.
In the second semi-final Rivas Ecopólis also came back from far to force overtime to beat Perfumerías Avenida (81-76).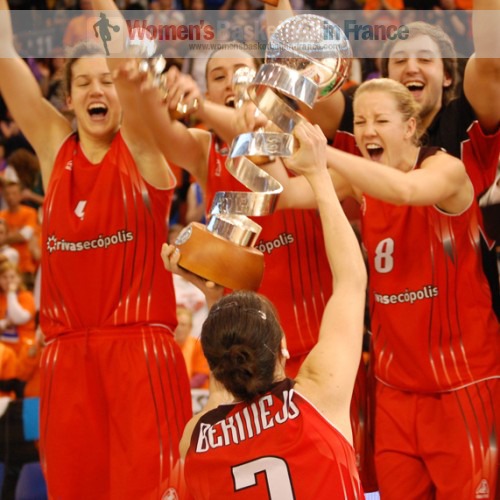 Move your mouse on the small pictures to view
---
Copa de la Reina 2009 for the third time in a row to Ros Casares
Stories from the 2008 edition of Copa de la Reina
Return to the top of page
Picture credits:


womensbasketball-in-france/masbasket.com
Date created: 9 January 2011
---