Anaël Lardy: playing basketball
abroad for the first time

Playing basketball in Prague for ZVVZ USK Praha as a first professional assignment out of France is popular amongst French internationals.
Anaël Lardy folllows in the footsteps of Sandra Le Dréan and Elodie Godin to represent one of the most famous sports clubs in the Czech Republic.

Veuillez lire des informations en français sur la saison 2012-13 à l'étranger de Anaël Lardy.

Sandra Le Dréan spent her last four years of professional basketball in Prague as her only adventure of playing basketball outside France.
Elodie Godin played alongside Le Dréan in 2007-2008 in the Czech Republic. Since 2008-2009 Godin has settled in Italy.
Lardy's LFB career has seen her play for Clermont Ferrand, Bourges Basket and for Challes-les-Eaux, her home town club, in 2011-12.
Lardy has been a senior French international since 2009 and was a member of the original "braqueues", the French team that won EuroBasket Women in 2009.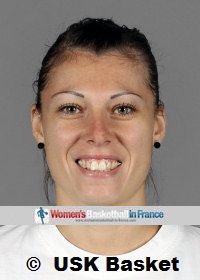 Even before Challes-les-Eaux' troubles became public, Anaël Lardy had decided that it was time for a change in her career and signed for USK Praha.
Lardy is reunited with former Bourges Basket team-mate and Czech Republic international Ilona Burgrova, whose Olympic dreams came true.

Also playing for the club is Jelena Dubljević who played for Tarbes during the 2010-2011 season.

USK Praha's season has already started with Lardy having played in all five game contributing to her club's top position as Czech leaders with five wins from five games in.

Lardy is the back-up point guard to Jelena Škerović but is averaging 18 minutes a game with 6.2 points and 3.2 assists per game.
Lardy will be back in France in February 2013 when USK take on USO Mondeville in the last game of the first phase of the EuroLeague Women competition.

Anaël Lardy, la braqueuse
de l'EuroBasket 2009

Finalement c'est le tour de Anaël Lardy qui tente de jouer du basket à l'étranger. Elle choisit l'ancien club de deux autres internationales françaises, Sandra Le Dréan et Elodie Godin, le ZVVZ USK Praha à Prague en République Tchèque.
Avec la saison déjà dans sa 5ème journée Lardy se confirme jouant 18 minutes avec 6 points et 3 passes décisives par match.
Lardy n'aura certainement pas trop le mal du pays en retrouant son ancienne co-équipière Ilona Burgrova à Prague et aussi parce qu'elle revient en France avec ZVVZ USK Praha pour une rencontre en EuroLigue contre Mondeville en Février prochain.
Certainement cette saison ne sera pas pour elle seulement le challenge pour gagner des titres avec sa nouvelle équipe mais aussi pour réintégrer l'équipe de France pour l'EuroBasket 2013 en France.

---
Visit our playing basketball abroad section

Visit our home page
Visit our "What's New" page
picture credits: USK Basket
womensbasketball-in-france.com

Date created: 11 October 2012
Like this page / Aimez cette page