France win EuroBasket Women 2009
---
---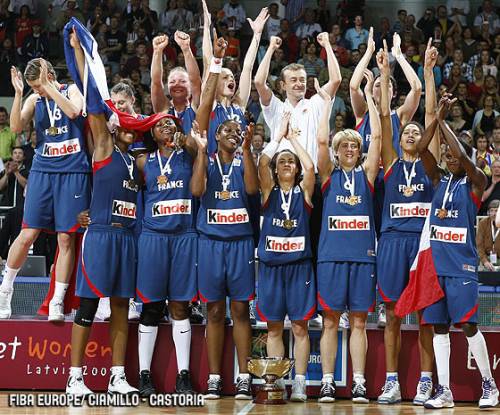 France win EuroBasket Women 2009 and are the the European Champions for the second time after the success in 2001.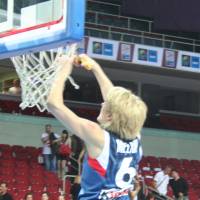 Cathy Melain (right) who retired from basketball today is the only member on the roster that played in 2001.
France beat Russia for the second time in this competition (57-53) to win the title.
Sandrine Gruda who made the all-tournament team was once again the top scorer for France with 12 points.
Emméline Ndongue fired in 11 points while Cathy Melain dished out 4 assists.
Evanthia Maltsi was voted the tournament MVP, she averaged 22.6 points per game. She also led the statistics in steals with 3.1 and hit 91% of her free-throws.
She was joined in the all-tournament team by Céline Dumerc and Sandrine Gruda from France as well as Svetlana Abrosimova from Russia.
Latvian star Anete Jekabsone-Zogota completed the team.
---
France take EuroBasket Women title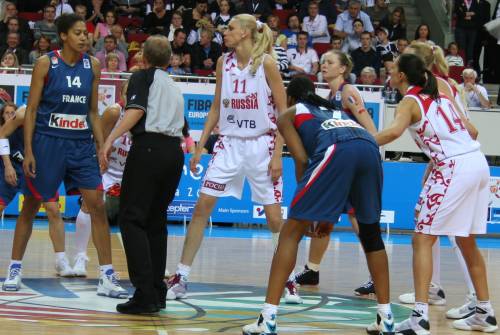 France were able to shoot after the first attack as they used up the 24 seconds. Russia got off the mark through
Irena Osipova
after she muscled her way to the basket.
Becky Hammon
doubled the Russian advantage before
Sandrine Gruda
and Pauline Krawczyk fired back to back scores for France to draw level. The two teams defended well. Neither team was able to score for almost three minutes until
Emméline Ndongue
was able to get past Maria Stepanova. The lead lasted only 10 seconds as
Ilona Korstin
was able to score. Both teams played end to end basketball with France able to go in the lead with
Emilie Gomis
and Isabelle Yacoubou-Dehoui scoring. Korstin was causing France again all kinds of problems and scored twice for Russia. However France led after the first period (12-10) thanks to a basket from
Elodie Godin
.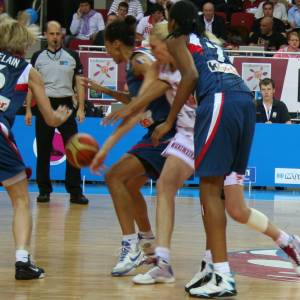 The game was very physical and scoring was next to impossible.
Olga Arteshina
knocked down a trey for Russia while France went back in front through
Florence Lepron
and Ndongue (16-13). The pace of the game went up with both teams starting to find ways to the basket.
Krawczyk
went through the lane for France while Stepanova showed her perimeter shooting skills. The battle between the big players from the two teams at both ends of the court was hard. Bodies were flying all over the place. Gruda and Ndongue added 2 points each to their counter as France led (24-17) with three minutes to play in the second period. Krawczyk was having an excellent game and ripped the ball of Korstin and then set up a fast break for Gruda to score. Hammon responded almost immediately for Russia. But France went into the locker room with an 11-point lead thanks to a three-pointer by
Emmanuelle Hermouet
. The two teams continued to knock each other about at the start of the third period. France was first to score as
Cathy Melain
served Hermouet with a nicely floated pass. Points were difficult to come by but there was a flourish of baskets from each side.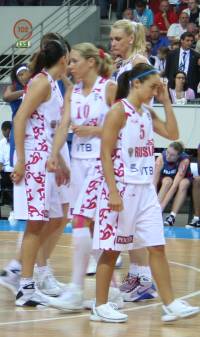 France finally ended the exchange with a baseline jumper from
Dumerc
and a lay-up by Godin who was also fouled (42-26) with 3:35 to play in the third quarter. The Russian coaching staff called for a time-out. Nothing changed though for Russia as France went further ahead with a trey by
Krawczyk
.
Arteshina
ended the drought for her team with a trey. However France continued to press hard in defense and in attack and went into the final period leading (46-33). The final quarter was a see-saw battle with neither side really able to control the game with France leading (53-41) with five minutes left to play. Russia went on one last charge with Arteshina and Stepanova doing most of the damage. Gomis was adjudged to have fouled Stepanova while she was attempting to shoot a three-pointer.
Stepanova
hit all 3 free-throws to make it a 4-point game with 90 seconds left to play (51-55). France managed to hit a couple of free-throws and kept Russia at bay to win (57-53). Gruda and Ndongue led the French scoring with 12 and 11 points each while Stepanova and Arteshina finished with 13 and 12 points for Russia.
EuroBasket Women 2009 Box Scores.
EuroBasket Women 2009 audio after match comments
All the comments are in French:
Céline Dumerc
, the French captain, was still looking at the scoreboard, finding it difficult to believe that France had won. She then took time to thank all the EuroBasket Women players of the final. She also thanked all the players involved in the various training camps for their contribution to the success.
Elodie Godin explained that the preparation was short but France went undefeated in all the preparation games as well as in EuroBasket. To actually win the European Championship title was just great.
Anaël Lardy was just over the moon. This victory was not expected.
Pauline Krawczyk talked about some of the key moments of the game.
Ilona Korstin from Russia was disappointed in losing to France but was full of praise for Pierre Vincent.
(Note: If you are using Internet Explorer click twice on the triangle)


---
Spain bronze while Greece qualify for the worlds
France and Russia qualify for the 2009 Women European Championship
France and Russia qualify for the 2009 Women European Championship
Russia required overtime against Latvia, while France just made it
Belarus and Spain qualify for semi-final
France beat Russia. Belarus and Italy are in quarter-final
Spain down hosts, while Greece qualify for quarter-final
Belarus keep hope alive while Russia win again
Spain are the only team undefeated in Group E
France stay on track in beating Turkey (55-43)
France taken to the wire against Lithuania (57-55)
Spain and Latvia in quarter-final
France beat Israel (73-70) to end first phase unbeaten
France need overtime to beat Belarus (63-61)
Five teams qualify for the next phase
EuroBasket Women news from day 1
Return from EuroBasket Women 2009 finals to "What's New" page
Return to Senior International Basketball
EuroBasket Women 2009 pictures credits :

womensbasketball-in-france.com
FIBA Europe
Date: 20 June 2009
---