EuroBasket Women 2009 is already over for 4 teams
---
---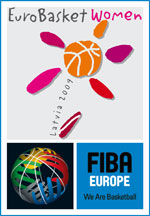 Day 3 of EuroBasket Women is also known as the elimination day because 4 teams have to pack their bags.
Ukraine were leading the Czech Republic by 10 points with four minutes remaining in the game but still ended up losing (77-79).
Olena Ogorodnikov and Olexandra Gorbunova had 25 and 21 points for Ukraine respectively. Though this was not enough to ensure a victory.
The Czech Republic's experience in dealing with difficult situations came to show in the dying minutes as they capitalised on their opponents' mistakes. They snatched the game and hence remain in the competition.
Sonja Petrovic from Serbia had her best game of the tournament and led her side in scoring with 14 points. However this was not enough as her side fell (55-65).
Hungary required to beat Poland by at least 11 points to advance to the next round and were on track for 15 minutes.
Poland, boosted by the return of Agnieszka Bibrzycka, weathered the storm and battled away to win (60-53).
Israel, whose fate was sealed even before they took the floor against France, almost upset France with a gusty performance.
France held on to win (73-70).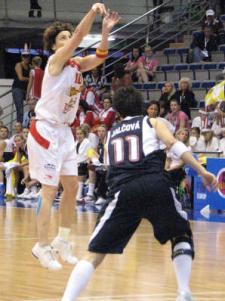 Elsewhere Latvia, the hosts required overtime to down Greece (70-68) with Gunta Basko scoring the game-winning shot.
Russia held off Lithuania (60-52) to remain unbeaten.
Elisa Aguilar (left) and Anna Montañana combined for 45 points as Spain beat the Slovak Republic (71-54).
Raffaella Masciadri lead Italy against Belarus (67-58) with 20 points.
Wednesday, 10 June 2009, is a rest day and the competition will resume on Thursday with all the remaining teams playing in Riga.
All the results from the first round of games
Ukraine 77-79 Czech Republic
Spain 71-54 Slovak Republic

Poland 60-53 Hungary
Greece 68-70 Latvia (after overtime)

Turkey 65-55 Serbia
Lithuania 52-60Russia

Belarus 58-67 Italy
France 73-70 Israel
Day 2
Hungary 56-76 LatviaFrance 63-61 Belarus (after overtime)

Poland 62-60 Greece
Serbia 37-72 Russia

Israel 64-75 Italy
Spain 85-59 Ukraine

Slovak Republic 65-58 Czech Republic
Turkey 69-66 Lithuania

Day 1
Latvia 86-52 Poland
Italy 61-76 France

Russia 74-61 Turkey
Czech Republic 59-66 Spain

Greece 59-43 Hungary
Belarus 81-76 Israel

Ukraine 55-77 Slovak Republic
Lithuania 71-49 Serbia

---
Five teams qualify for the next phase
EuroBasket Women news from day 1
Return from EuroBasket Women 2009 finals to "What's New" page
Return to Senior International Basketball
EuroBasket Women 2009 pictures credits :
Miguel Bordoy Cano
Date: 09 June 2009
---