Pierre Vincent names FIBA World Championship roster for France
---
---
Pierre Vincent played his FIBA World Championship roster in the final match against Japan this evening (11 September 2010) at the international tournament in Villeneuve d'Ascq, France.
France won this match (71-64) with 20 points coming from Emméline Ndongue. They dominated the first 20 minutes but were unable to put Japan away during the second half of the match.
Ndongue explained after the game that this was a good game for the team's preparation for the FIBA World Championship because they have to learn how to play against opponents such as Japan that are not very tall but very quick.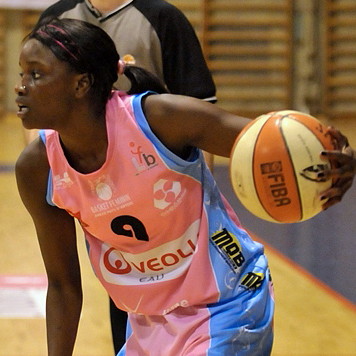 Immediately after the match Vincent confirmed his final roster which will only be modified if a player picks up an injury before the World Championship starts.
Marielle Amant who did not play in this tournament and who has battled through injury and personal tragedy and her club team-mate Johanne Gomis (left) were released from training camp.
Prior to these players leaving the camp Yacine Séné from Mondeville was released on the 6th September.
For Doriane Tahane, her adventure ended when she hurt her knee. Her injury occurred just before Sandrine Gruda returned from her time in the WNBA.
For Ana Cata-Chitiga, Sarah Michel and Ingrid Tanqueray (who had replaced Virginie Brémont), the other members of the initial FIBA World Championship training roster their trial ended after the first training camp.
France have played 8 official training matches, winning 6 and losing 2 so far.
They were beaten by Greece (70-58) in a four-nation international tournament in Lugo, Spain. They also lost more recently in Villneuve d'Ascq against Belarus (64-58).
France will continue their preparation with three more matches against Japan, Argentina and Brazil before heading off to the Czech Republic.
26 August 2010: France 73-41 Senegal
27 August 2010: France 83-41 Senegal
29 August 2010: France 53-34 Poland

02 September 2010: France 76-55 Belarus
02 September 2010: France 58-70 Greece
02 September 2010: France 65-59 Spain

09 September 2010: France 65-44 Canada
10 September 2010: France 58-64 Belarus
11 September 2010: France 71-64 Japan

The final roster is as follows:
Clémence BEIKES, Saint Amand (NF1)
Jennifer DIGBEU, Bourges Basket
Céline DUMERC, UMMC Ekaterinburg (Russia)
Elodie GODIN, Cras Basket Taranto (Italy)
Emilie GOMIS, Villeneuve d'Ascq
Sandrine Gruda, UMMC Ekaterinburg (Russia)
Pauline JANNAULT-LO, Tarbes
Marion LABORDE, Basket Landes
Anaël LARDY, Bourges Basket
Florence LEPRON, Tarbes
Nwal-Endéné MIYEM, Bourges Basket
Emméline NDONGUE, Bourges Basket

---
Return from new bulletin to France senior international basketball page
GO Back to the top of the page
---
picture credit:

Romain Chaib

Date created: 11 September 2010
---