France Eurobasket Women 2009 roster confirmed
---
---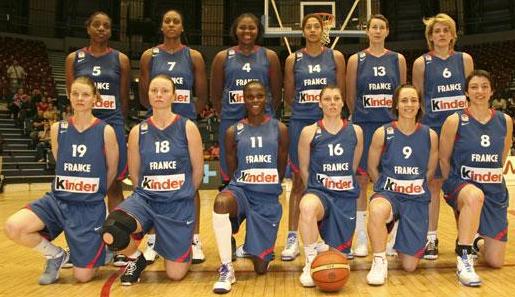 Pierre Vincent explained that his selection for EuroBasket Women 2009 had to be made in a short time. This time limitation was also difficult on the players fighting for places in the final squad.
France won all three games against Greece
France's final preparation started with a three-game series against Greece during the third week of May.
France had a comfortable victory in the first game (83-47). Greece were more competitive for the remaining two games and gave France a good test.
All the same France won games 2 and 3 (62-52) and (54-50) to sweep the series.
Caroline Aubert and Fatimatou Sacko's participation with the French squad ended after this series.
France won 4-nation at Evry
The last test for France was a 4-nation tournament in Evry against Australia, Hungary and The Czech Republic.
France ended up winning all three games to win the tournament. They beat Hungary (61-55) in the first game.
The match was difficult and France trailed (25-36) at the interval. However they stepped up defensively in the second half of the match to secure the victory.
Also from day one the Czech Republic gave Australia a tough game before falling (79-82).
France's inside play was too much for the Czech Republic on day two as they won comfortable (81-59). Australia were again taken to the wire before overcoming Hungary (84-80).
On the final day Hungary beat the Czech Republic (67-46) while France beat Australia (80-60) with some excellent three-point shooting and strong inside play.
After this tournament Pierre Vincent made his final choice of 12 players for EuroBasket Women 2009. The last players to be dropped from the team were Elodie Bertal, Jennifer Digbeu and Yacine Séné.
The final 12 players
The France EuroBasket Women 2009 roster with squad numbers is as follows:
4. Isabelle Yacoubou-Dehoui
5. Nwal-Endènè Miyem
6. Cathy Melain
7. Sandrine Gruda
8. Emmanuelle Hermouet
9. Céline Dumerc
10. Pauline Krawczyk
11. Emilie Gomis
12. Florence Lepron
13. Elodie Godin
14. Emméline Ndongue
15. Anaël Lardy

You can watch a presentation of the team in the following clip produced by the French Basketball Federation. This presentation has a musical background, so you may need to turn down the sound of your computer before viewing.
---
Player find January training camp tough
Return from EuroBasket Women 2009 preparation to "What's New" page
pictures credit :

Ann Dee Lamour

Date: 06 June 2009
---