EuroBasket Women 2009 preparations start in January 2009 for France
---
---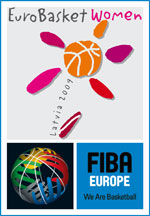 The preparation for EuroBasket Women 2009 for France will begin in January 2009. Pierre Vincent, the national head coach, has already named his preliminary 2009 team roster.
19 players have received the official call-up letter. Six players join the 13 players who played in the qualifications during the summer of 2008:
Emilie Gomis, who was injured at the end of last season and made an attempt to play with the French team last summer, but was released, is one of the two players who missed out last summer to be called back.
Anaël Lardy, the captain of Clermont-Ferrand and former U20 captain is the second player.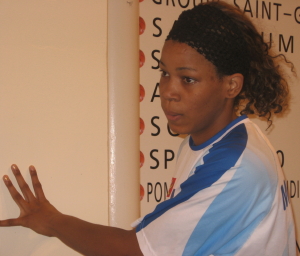 Sandrine Gruda who played with the Connecticut Suns in the WNBA is among the players called up for "les bleues".
Pierre Vincent continues his policy with youth players as he has included Marielle Amand (left) who turns 19 in December and is in her second season at Asptt Arras.
The two other youth players are Diandra Tchatchouang and Allison Vernery.

The full 19 player training roster is as follows:
Marielle Amand
Clémence Beikes
Jennifer Digbeu
Sandra Dijon-Gerardin
Céline Dumerc
Emilie Duvivier
Emilie Gomis
Sandrine Gruda
Emmanuelle Hermouet
Pauline Krawczyk
Anaël Lardy
Florence Lepron
Nwal-Endènè Miyem
Emméline Ndongue
Yacine Séné
Diandra Tchatchouang
Allison Vernery
Isabelle Yacoubou-Dehoui

---
Return from EuroBasket women 2009 qualifiers preparation to "What's New" page
pictures credit :
womensbasketball-in-france.com

Date: 28 November 2008
---