EuroBasket Women 2009 training roster is down to sixteen players
---
---
Pierre Vincent's EuroBasket Women 2009 training roster has been reduced to sixteen players. While he was preparing Bourges Basket for the LFB championsip final and the Coupe de France, he was also overseeing the preparation for Eurobasket.
Due to players still involved in club competition Marielle Amant was invited to join the group.
On Friday, 15 May 2009 Pierre Vincent made an announcement about the rest of the programme.
He said that the first 15 days were basically an extension of the January training camp. It was an opportunity to check the form of certain players as well as working on systems.
However not all the players called up were at the camp due to various club competitions in France and Europe.
The following players will no longer be involved in the preparation: Clémence Beikes, Aurélie Bonnan, Emilie Duvivier, Pauline Jannault, Anne-Sophie Pagnier, Paoline Salagnac and Gaëlle Skrela

The sixteen players that will continue the preparation are as follows: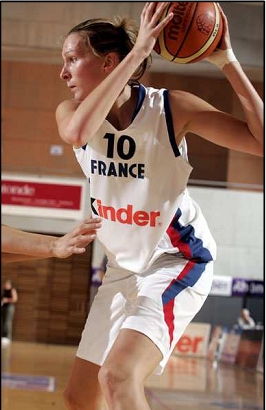 Caroline Aubert

Elodie Bertal (right)

Jennifer Digbeu

Céline Dumerc

Elodie Godin

Emilie Gomis

Sandrine Gruda

Pauline Krawczyk

Anaël Lardy

Florence Lepron

Cathy Melain

Nwal-Endènè Miyem

Emméline Ndongue

Fatimatou Sacko

Yacine Séné

Isabelle Yacoubou-Dehoui

France will end the training camp with three games against Greece .
Emmanuelle Hermouet has returned to her club for the NF1 final four.
---
Player find January training camp tough
Return from EuroBasket Women 2009 preparation to "What's New" page
pictures credit :
Bellenger FFBB

Date: 18 May 2009
---