NCAA student athlete
Myriam Igoufe

NCAA student Myriam Igoufe came over to the USA after a successful youth career with Bourges Basket, the CFBB and with France U16 and U18 to "play College hoops" and to study towards international law.
Womensbasketball-in-france followed her progress in America and would like to share her story with you:

Igoufe's youth basketball career took off when she was admitted a year early in the Pôle Espoir in Bourges in 2002 at the age of 12.
Before joining the Bourges Basket Basketball Academy in 2005, she played for three years for different clubs in the region.
While at the academy, Igoufe was selected to play for France at the 2006 U16 European Championship Women Division A. In 2006 she also passed her French baccalaureate.
Afterwards she spent her last youth season in Paris at INSEP (Institut national du sport, de l'expertise et de la performance) playing for the CFBB while also starting her higher education.
In this time Igoufe was recruited for Lamar University by Larry Tidwell for the 2008-2009 season.

Before heading off to Beaumont, Texas, Igoufe played once again for France at the 2008 U18 European Championship Women Division A.
Although Igoufe was a student athlete she was only cleared by the NCAA on the 26th December for basketball activities, nine games into the Lady Card's season.
However her first official practice ended tragically with her mother witnessing Igoufe tearing her ACL on her left knee.
Her basketball season finished before it started.
Yet Igoufe did not give up. After her operation on 16 January 2009, she managed to race through a tough rehabilitation programme and qualified to play for France at the 2009 U19 FIBA World Championship for Women.
She played in four games during that tournament. Unknown to Igoufe her last official game of basketball was on 2 August 2009 against Lithuania with France winning the match with her contributing 5 points.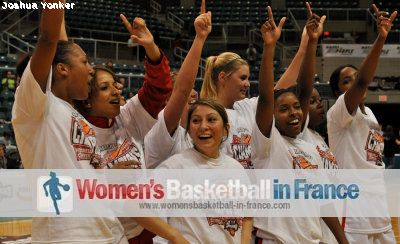 Returning to her university, Igoufe suffered another ACL injury - this time on her right knee - during the 2009 pre-season. Another season with the Lady Cardinals was over before she could suit up. So she hit her books and in spring of 2010 she graduated with her Political Science degree.
Yet her athletic setback did not stop her accompanying and supporting her team to pick up a Southland Conference title ring and going on to the Big Dance during March Madness.
For the following season, that is 2010-2011, Igoufe was again on the roster but never played again.
While officially staying a member of the women's basketball programme, Igoufe went on to pick up a master's degree in Public Administration on 23 December 2012.
Although Myriam Igoufe could not fulfil her basketball ambition in the USA, she showed her mental strength and achieved academically what she wanted.

wbbif wish her all the best for her future!
Myriam Igoufe est une jeune femme formidable qui a - malgré des blessures à répétion - toujours essayé de revenir pour jouer au basket, mais a finalement dû accepté le fait que son corps ne lui permettait pas de vivre son rêve du basket américain et s'est concentrée sur ses études.
wbbif lui souhaite que tous ses autres vœux soient exaucés!
---
Like this page / Aimez cette page