2012-2013 LFB team rosters
Effectifs: Ligue Féminine de Basketball 2012-2013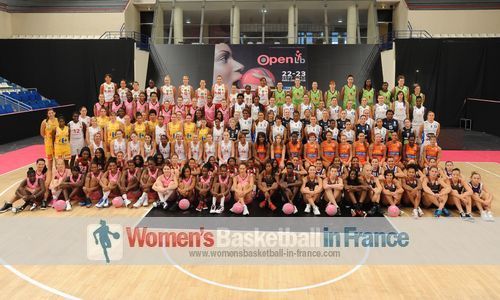 The 2012-13 season has already started and the LFB team rosters have been all confirmed. This page is the reference for all roster changes during this season with all the links from articles written by wbbif.

The 14 teams in the Ligue Féminine de Basketball are allowed to sign as many players as their individual budgets allow. But on match days they may only play a maximum of four non-French players.
The LFB also imposed a restriction of the number of non-Europeans (FIBA Europe zone passport holders) allowed per match which is just two.
Sometimes exceptions are made under the very confusing rules around the medical replacement, the "joker médical" where clubs are allowed to play more non-French players than the agreed four-player rule.
wbbif will will update this page frequently with changes of the LFB team rosters.
Furthermore articles about any modification for the French club rosters concerning EuroLeague Women or EuroCup Women appears on this page.
---
Saison 2012-13 de la LFB:

Sur cette page vous allez trouver des liens pour des articles et des informations sur les modifications concernant les effectifs de toutes les 14 équipes de la Ligue Féminine de BasketBall.
Rappelons-nous que le règlement de la LFB stipule que les clubs ne doivent pas excèder leur budget, mais peuvent recruter en tant que joueuses qu'ils souhaitent.
Pourtant pas plus que deux joueuses « étrangères » par équipe (ressortissantes d'Etats dont les Fédérations ne relèvent pas de la Zone FIBA Europe) sont autorisées d'y jouer par match, mais en total pas plus que quatre étrangères par match.

Une exception de cette règle pour la restriction à quatre joueuses étrangères est le joker médical dont sa nationalité n'est pas prise en considération.
En même temps, vous pouvez aussi vous renseigner ici sur les modifications éventuelles pour les effectifs des clubs français participant en EuroLigue ou EuroCoupe féminine.
En cas de nouveau changement sur les effectifs, des modifications des règlements etc, vous allez trouver tout sur ce page.
---
02 October 2012: Let's talk about Toulouse basketball for 2012-13

02 October 2012: What else can we expect from Perpignan Basket in 2012-13

02 October 2012: Lyon are given a second chance thanks to Challes-les-Eaux

01 October 2012: Aix-en-Provence ready for a construction job by Bruno Blier

01 October 2012: Arras Basket Féminin have EuroLeague Women on their mind
01 October 2012: Entente Sportive Basket Villeneuve d'Ascq Lille Métropole version 2012-13
29 September 2012: Flammes Carolo Basket - Version 2012-2013
29 September 2012: Tarbes Basket turn the page and start again in 2012-2013

28 September 2012: Hainaut Basket want more in 2012-2013 season

22 September 2012: Playing basketball in Nantes-Rezé is different in 2012-13
21 September 2012: Basket Landes have a new team for the 2012-13 season
20 September 2012: USO Mondeville 2012: Can they improve on last year's result?

19 September 2012: Lattes Montpellier 2012 - It is time for another trophy
19 September 2012: Bourges Basket 2012: Defending champions with EuroLeague Women ambitions
---
Visit our 2012-2013 Ligue Féminine de Basket section

Visit our home page
Visit our "What's New" page
picture credits for LFB team rosters page:
womensbasketball-in-france.com


Date created: 03 October 2012
Like this page / Aimez cette page