A trophy for Lattes Montpellier
would be nice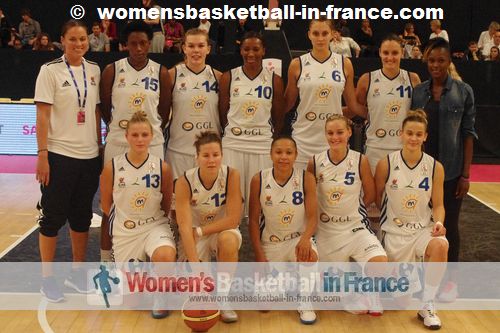 Lattes Montpellier are not playing EuroLeague Women basketball this season which came as a surprise. However this won't stop the club's ambitions for the 2012-2013 season for a major trophy.
Veuillez trouver en bas du page des informations en français sur l'effectif de Montpellier pour la saison 2012-2013.
Last season's injuries to Kristen Mann and Stephany Skrba were to prove costly as the club just missed out on taking the regular season title.
Despite eliminating Challes-les-Eaux during the semi-final of the LFB play-off series, they were unable to win a game against Bourges Basket and like in 2008 they had to settle with the championship runners-up medal.
The following players left the the club at the end of last season: Léa Blatrie (Feytiat, NF1), Sandra Dijon-Gérardin (Arras), Stephany Skrba (Bourges Basket), Mathilde Roche (Chenôve, NF1), Diandra Tchatchouang (Perpignan Basket).
Only two players were signed during the transfer period: Emilie Gomis (in picture) from Villeneuve d'Ascq and Ana Cata-Chitiga from Tarbes.
Lidija Turcinovic joins the club after completing her three years at the CFBB while Géraldine Robert has signed a two-month medical replacement contract. Robert covers for the absence of Kristen Mann.
The official roster with their squad numbers for 2012-2013 is as follows: 4 Lidija Turcinovic, 5 Virginie Brémont, 6 Ana Cata-Chitiga, 7 Edwige Lawson-Wade, 9 Émilie Gomis, 10 Kristen Mann, 10 Géraldine Robert, 11 Ana Lelas, 12 Gaëlle Skrela, 14 Justine Barthelemy, 15 Fatimatou Sacko.
Following the club's tradition the following academy players should also be members of the first team: Mégane Hero and Cassandra Gesell.
Le rêve de Lattes Montpellier

La saison dernière Lattes Montpellier perd dans la semi-finale des play-offs contre Bourges Basket et ainsi se voit déprivé du titre de champion de France et termine deuxième pendant la saison régulière.

Avec ses deux olympiennes, médaillées d'argent, Edwige Lawson-Wade (dans l'image) et Emilie Gomis, le club devrait être fort.
Départs: Léa Blatrie (Feytiat, NF1), Sandra Dijon-Gérardin (Arras), Stephany Skrba (Bourges), Mathilde Roche (Chenôve, NF1), Diandra Tchatchouang (Perpignan)

Arrivées : Ana Cata-Chitiga (Tarbes), Émilie Gomis (Villeneuve d'Ascq), Lidija Turcinovic (Centre Fédéral), Géraldine Robert (Gdynia, pigiste de Kristen Mann)

Effectifs 2012-2013 : Edwige Lawson-Wade (1, 1m67, 1979), Virginie Brémont (1, 1m77, 1989), Émilie Gomis (2, 1m80, 1983), Gaëlle Skrela (2, 1m77, 1983), Lidija Turcinovic (2, 1m78, 1994), Ana Lelas (2-3, 1m83, 1983), Fatimatou Sacko (3-4, 1m83, 1985), Kristen Mann (4-3, 1m86, 1983), Géraldine Robert (4-3, 1m84, 1980), Ana Cata-Chitiga (5, 1m95, 1989)


---
Visit our home page
Visit our "What's New" page
picture credits:
womensbasketball-in-france.com
Ann See Lamour

Date created: 19 September 2012
Like this page / Aimez cette page