Perpignan Basket have a
good team for 2012-2013

Perpignan Basket come to the Ligue Féminine de Basketball with one objective, qualify for European club basketball next season (2013-2014).
In order to achieve this Patrick Esteban, the General Manager of the club, has found the sponsors to put together an impressive roster.
Veuillez trouver en bas du page des informations en français sur l'effectif de Perpignan.

Last season Perpignan's LF2 roster was impressive. But for their debut in the LFB only five of those players return: Héléna Ciak, Laina Badiane, Fatou Dieng, Pauline Lo, Clémentine Samson and Isabelle Strunc.
Lo extended her contract by one year while Ciak signed a new one for three years. These agreements should keep both players at the club till 2015.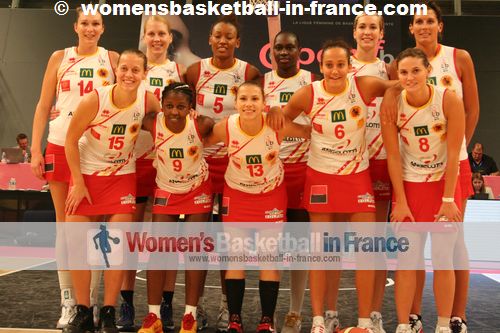 François Gomez is the only coach in French Basketball to have led teams to the Ligue Féminine de Basketball (LFB) and to the Ligue Féminine 2 (LF2). He is in the second year of his three-year contract.

The new players coming include two players who were at the 2012 Olympic games while two others are French internationals.
The French internationals are Elodie Bertal and Diandra Tchatchouang, while the Olympians are Croatian point guard Iva Ciglar and Australian power foward Abby Bishop. The final recruit is shooting guard Angie Bjorklund.
This is a roster that should be able to compete on equal terms with most of the top teams in this division and finish high up in the table.

The LFB roster and its squad numbers for Perpignan Basket are: 4 Abby Bishop, 5 Diandra Tchatchouang, 6 Clémentine Samson, 7 Laina Badiane, 8 Isabelle Strunc, 9 Fatou Dieng, 12 Pauline Lo, 13 Iva Ciglar, 14 Elodie Bertal, 15 Angie Bjorklund, 16 Héléna Ciak.
Perpignan va faire trembler des clubs en LFB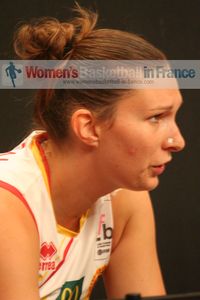 Dans sa deuxième année à Perpignan Basket, le coach François Gomez est en train de réaliser un "sans faute" avec la promotion du club de L2F au LFB et cette saison le maintien possible de la formation en LFB.
Rappelons-nous encore une fois de son exploit au Final Four en 2011-12 remportant la victoire face au Toulouse Métropole Basket.
Les nouvelles recrues de son équipe comme Elodie Bertal (dans l'image) et Diandra Tchatchouang, Iva Ciglar, Angie Bjorklund, Abby Bishop vont renforcer le rang des anciennes.
Départs : Camille Ruiz (Saint-Etienne, NF1), Princesse Goubo (Limoges, LF2), Pauline Thizy, Agathe Nnindjem-Yolemp (maternité), Nzumba Kamalandua (Le Creusot, NF2), Marine Abribat

Arrivées : Angie Bjorklund (Elizur Netanya, Israël), Diandra Tchatchouang (Lattes-Montpellier), Elodie Bertal (retour à la compétition), Abby Bishop (Adelaïde, Australie), Iva Ciglar (Györ, Hongrie)

Effectifs 2012-2013 : Iva Ciglar (1, 1m69, 1985), Fatou Dieng (1, 1m67, 1983), Clémentine Samson (2, 1m81, 1991), Isabelle Strunc (2, 1m80, 1991), Angie Bjorklund (2-3, 1m83, 1989), Pauline Lo (3, 1m92, 1987), Diandra Tchatchouang (3, 1m87, 1991), Laina Badiane (4-3, 1m84, 1985), Elodie Bertal (4, 1m90, 1986), Abby Bishop (5, 1m89, 1988), Héléna Ciak (5, 1m90, 1990)


---
Visit our home page
Visit our "What's New" page
picture credits:
womensbasketball-in-france.com

Date created: 02 October 2012
Like this page / Aimez cette page