Basket Landes looking for
new exploits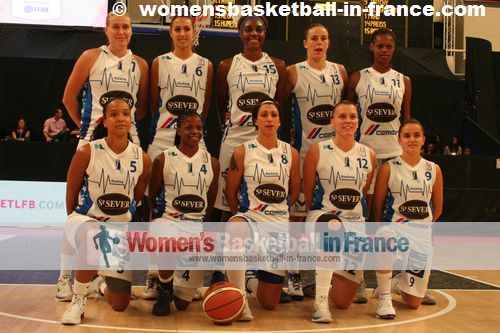 Over the past four seasons the LFB roster of Basket Landes remained constant with no more than two changes per season.
The club's policy was to sign players for contracts of at least two years and then fill their bench with academy players.
Veuillez trouver en bas du page des informations en français sur le nouvel effectif de Basket Landes.

Despite the club's small budget they have always honoured their engagements with players to the extent of resigning long-term injured players.
However the cycle has come to an end and the following players have gone: Camille Aubert, Katarina Manic, Bineta Diouf (pregnant), Julie Barennes, Julia Borde, Allison Hightower, Justyna Zurowsk and Amélie Pochet.
Sarah Ousfar is still at the club but with the return of Valériane Ayayi after three years at the CFBB, her place in the first team roster for the moment has gone. Alexia Lacaule, another young member of the academy, will occasionally join the ranks of the senior team.

The only LFB players coming back are: Anaïs Le Gluher-Cano, Marion Laborde and Jennifer Humphrey.
The recruitment for this season has been made so that the team can cope better with the requirements of the EuroCup Women competition while maintaining their form in the Ligue Féminine de Basketball.
The new players coming are: Carmen Guzman, Olivia Époupa, Valériane Ayayi, Kamila Stepanova, Tamara Abalde and Sabrina Reghaïssia.
This will be the second time that Reghaïssia will be playing for the club.
The team roster for the LFB and EuroCup Women is as follows: 4 Olivia Époupa, 5 Carmen Guzman, 6 Tamara Abalde , 7 Kamila Stepanova, 8 Anaïs Le Gluher-Cano, 11 Valériane Ayayi, 12 Marion Laborde, 13 Sabrina Reghaïssia, 15 Jennifer Humphrey
Basket Landes démarre la saison
avec un nouvel effectif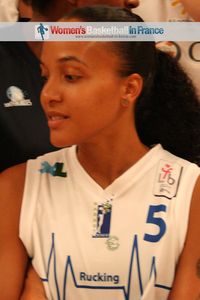 Carmen Guzman (dans l'image) a joué contre Basket Landes dans l'EuroCoupe, mais cette saison elle met les couleurs des Landaises avec cinq autre nouvelles recrues.
Olivier Lafargue est confiant que son équipe dont que trois anciennes joueuses, Anaïs Le Gluher-Cano, Marion Laborde et Jennifer Humphrey, sont encore dans son effectif pour 2012-13 va tout donner pour bien démarrer la saison à l'Open LFB.
Départs : Julie Barennes, Camille Aubert (Angers, LF2), Katarina Manic, Amélie Pochet (Villeneuve d'Ascq), Allison Hightower, Justyna Zurowska (Cracovie, Pologne), Julia Bordes (Pau, LF2)

Arrivées : Carmen Guzman (Ruzemberok, Slovaquie), Olivia Époupa (Centre Fédéral), Valériane Ayayi (Centre Fédéral), Kamila Stepanova (Ruzemberok, Slovaquie), Tamara Abalde (Pays d'Aix), Sabrina Reghaïssia (Arras)

Effectifs 2012-2013 : Carmen Guzman (1, 1m72, 1985), Olivia Époupa (1, 1m63, 1994), Anaïs Le Gluher-Cano (2, 1m75, 1982), Marion Laborde (3, 1m78, 1986), Valériane Ayayi (3, 1m84, 1994), Tamara Abalde (4-3, 1m90, 1990), Sabrina Reghaïssia (4, 1m89, 1983), Kamila Stepanova (4-5, 1m93, 1988), Jennifer Humphrey (5, 1m91, 1984)

---
Visit our home page
Visit our "What's New" page
picture credits:
womensbasketball-in-france.com

Date created: 22 September 2012
Like this page / Aimez cette page