Does playing basketball
in Nantes Rezé
change with a new coach ?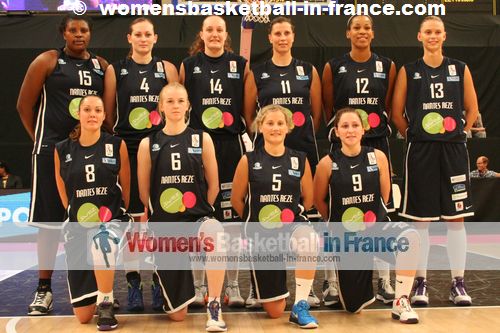 After three hard seasons of playing basketball under Laurent Buffard, the players and fans have to adjust to the methods of a new coach Emmanuel Coeuret.
En bas du page, veuillez trouver des informations en francais sur l'effectif de 2012-13 de Nantes Rezé.
The task of building a new team appeared to be as difficult as one trying to climb the world's tallest mountain after the departure of eight players.
However in reality it was not as difficult as it seemed because Caroline Aubert, Sarah Michel, Claire Stievenard and Yuliya Andreyeva all returned to continue playing basketball in Nantes.

Also Bernadette N'Goyisa is finally in a position - after injury and pregnancy - to play for the team.
Filling the remaining places was almost like completing a jigsaw puzzle with each player fitting into a designated slot.
Nantes are the three-time defending champions of the LFB Challenge Round so the expectations for a successful season in the Ligue féminine de basketball is high.
The team roster for the season is as follows: Isis Arrondo, Caroline Aubert, Sarah Michel, Claire Stievenard, Marielle Amant, Tatyana Troïna, Yuliya Andreyeva, Bernadette N'Goyisa, Viktoria Mircheva , Zoé Chalumeau
Nouvel coach, nouvel effectif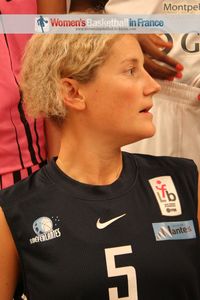 Quoiqu'il y a un grand changement à Nantes avec des nouvelles joueuses et un nouveau coach, c'est reconfortant de retrouver Caroline Aubert (dans l'image), Sarah Michel, Claire Stievenard et Yuliya Andreyeva. Mais Bernadette N'Goyisa revient aussi après blessure et maternité.
Départs : Lenae Williams (Villeneuve d'Ascq), Laurent Buffard (coach, Lyon), Aurélie Bonnan (Charleville-Mézières), Johanne Gomis (Arras), Doriane Tahane (arrêt), Florine Basque (Roche-Vendée), Regina Palusna (Spisska Nova Ves, Slovaquie), Aminata Nar Diop (Charleville-Mézières)

Arrivées : Isis Arrondo (Braines, Belgique), Emmanuel Coeuret (coach), Marielle Amant (Bourges), Tatyana Troïna (Horizont, Biélorussie), Bernie N'Goyisa (retour de maternité), Viktoria Mircheva (USK Prague), Zoé Chalumeau (Poitiers)

Effectifs 2012-2013 : Isis Arrondo (1, 1m64, 1989), Caroline Aubert (1, 1m68, 1980), Sarah Michel (2, 1m80, 1989), Claire Stievenard (2-3, 1m79, 1993), Tatyana Troïna (3, 1m88, 1981), Yuliya Andreyeva (3-4, 1m88, 1983), Marielle Amant (4, 1m90, 1989), Viktoria Mircheva (4, 1m90, 1987), Zoé Chalumceau (5, 1m92, 1986), Bernie N'Goyisa (5, 1m95, 1982)


---
Visit our home page
Visit our "What's New" page
picture credits:
womensbasketball-in-france.com

Date created: 22 September 2012
Like this page / Aimez cette page