2011 LFB Champions are once again Nantes-Rezé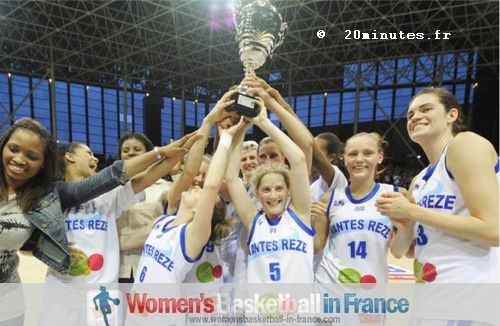 Nantes-Rezé have successfully defended
the LFB challenge round trophy they won in 2010
by beating USO Mondeville (68-64) in the second game for an aggregate score victory (134-130).
The heroes of the second leg for Nantes-Reze were Mame-Marie Sy-Diop (in picture) who scored 25 points and Caroline Aubert with a double-double 16 points and 10 rebounds.
Mondeville more or less played with the same five players for most of the match. They were still in the lead going into the interval (36-34) but paid the price for a sloppy third quarter.
In double digits were Lenae Williams with 18 points followed by K. B. Sharp with 15, Valeriya Berezhynska with 13 and Aurélie Bonnan with 11 points.
Mondeville still have one chance to qualify for Europe next season when they play in the French Cup (Coupe de France) final at the weekend.
Nantes-Rezé hold on to the LFB challenge round trophy
Laurent Buffard decided to start with Latvian international Sabine Niedola who then scored 6 consecutive points in a (8-4) start for the hosts.
In a lively first quarter Nantes-Rezé led by as many as 7 points but had to be content with a 3-point lead (23-20) at the end of the quarter after allowing Mondville's Latvian international Aija Brumermane through the back door.
Mondeville were much stronger during the second quarter and with Touty Gandega (below right) returning, Mondeville went in front for the first time in the match (26-25) with almost 14 minutes played.
Nantes-Rezé got back on level terms with a trey by Caroline Aubert and regained the advantage briefly through Mame-Marie Sy-Diop.
Back to back treys by K. B. Sharp and Lenae Willaims put Mondeville back into the lead going into the locker room (36-34).
Aubert was all over the court at the start of the third quarter as her team started to take control of the game with a 6-0 run (44-38).
Mondeville were able to stay in the game because Nantes-Rezé started to throw the ball away with unforced turnovers.
Niedola stuck to her task of marking Williams but picked up 2 fouls and had to return to the bench.
Lindsay Taylor was also not having one of her better days so despite the dominance Nantes-Rezé went into the final quarter leading by just 5 points (56-51).
Sharp and Berezhynska brought Mondeville right back into the game (56-56) with 90 seconds played in the final quarter.
However Aubert and Sy-Diop restored the 5-point advantage to the home side.
Emilija Podrug who was having problems with her mask finally found her shooting range to give Nantes-Rezé a 7-point lead with five minutes to play.
Berezhynska showed some of her defensive qualities with a couple of blocks but then she herself was somehow blocked by Niedola.
Mondeville failed to reduce the deficit as Sy-Diop continued her festival at both ends of the court.
With the game in money-time and Nantes-leading (68-61), Gandega returned for Mondeville.
Her defensive qualities stopped the hosts from setting up any plays and she was to score the last points of the game.
The last 30 seconds were strange as Mondeville did not foul to try and stop the clock and more or less leaving the victory for the hosts.
The LFB challenge round final was broadcast live by LFB-TV and once the game is archived it will be available in our webcast section for 2010-2011.
Nantes-Rezé 68-64 USO Mondeviile
Nantes-Rezé: Florine Basque DNP, Caroline Aubert 16 (10 rebounds and 4 assists), Joyce Cousseins-Smith 0, Morgiane Eustache 0, Mélanie Plust 2, Yuliya Andreyeva 2, Mame-Marie Sy-Diop 25, Lindsay Taylor 9, Sabine Niedola 6, Emilija Podrug 8
USO Mondeville: Touty Gandega 4, Anne-Sophie Pagnier DNP, Esther Niamké-Moisan DNP, Aija Brumermane 2, K. B. Sharp 15, Lenae Williams 18, Awa Sissoko DNP, Yacine Séné 1, Pauline Thizy DNP, Aurélie Bonnan 11, Valeriya Berezhynska 13
You can read the report: Mondeville and Nantes-Rezé tie game one.
---
Return from LFB Basketball News to Ligue Féminine de BasketBall index
Go to Women Playing Basketball In France Home Page
Return to the top of page
---
LFB basketball news picture credits:
womensbasketball-in-france.com
Romain Chaib
LFB
20minutes.fr

Date created: 09 May 2011
---