2011 LFB championship final: All square after first leg
Although USO Mondeville tied the game in the LFB challenge round against Nantes-Rezé, Lenae Williams has enjoyed herself and led her side in scoring with 23 points in her last home game for the club.
Williams had 5-from-8 attempts from behind the arc while K. B. Sharp was the only other player in double digits with 12 points.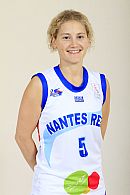 For Nantes-Rezé Caroline Aubert (in picture) gave another master class in the art of passing with 9 assists while Emilija Podrug compiled a double of 16 points and 12 rebounds.
Without Allison Hightower - who had returned home - Joyce Cousseins-Smith and Yuliya Andreyeva also finished in double digits with 15 and 11 points each.
The final game of the LFB challenge round on Monday, 9 May 2011 can be viewed live on our site.
LFB Challenge round game report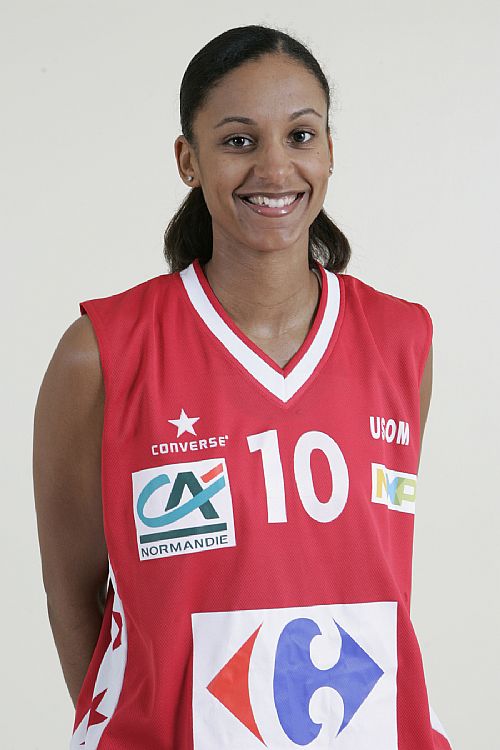 Nantes-Rezé wasted no time in getting started with a trey by Yuliya Andreyeva.
Lenae Williams replied almost immediately with a three-pointer for Mondeville.
Both teams were playing quickly. K. B. Sharp blocked Caroline Aubert from beyond the arc and then went down the other end to score. Yet teams were level on the next play with Andreyeva scoring (5-5) with two minutes played.
Valeriya Berezhynska from Mondeville was penalised with 2 quick fouls and had to return to the bench with just three minutes played.
Aubert and Sharp continued their duel while their team-mates traded baskets.
Nantes had the edge (12-11) with five minutes played but Williams was swinging the pendulum in favour of the hosts.
Mondeville went in front for the first time with three minutes to play with Williams' 8th and 9th point coming from the free-throw line (13-12).
Williams continued her one-lady show with her second trey of the game to give her side a 4-point advantage (16-12).
Both coaches started to turn their bench to give their starters a rest as the quarter came to an end with Mondeville in front (18-16).
Lindsay Taylor opened her account at the start of the second quarter. Then Nantes-Rezé went in front with Sabine Niedola splitting a pair.
Pauline Thizy (right) won her battle against Taylor for Mondeville to reclaim the lead briefly.
The two teams continued to play quickly and aggressively with the lead changing hands several times.
After Andreyeva and Williams traded three-pointers, Hervé Coudray was forced to call the first time-out of the game with fifteen minutes played and his team trailing (25-28).
Mondeville started to turn the ball over more frequently and Nantes-Rezé went 6 points clear after a three-pointer by Joyce Cousseins-Smith (31-25).
Williams once again started a Mondeville charge with a couple more points. Sharp and Aurélie Bonnan also added 2 points each to level the score (31-31) with 2 1/2 minutes to play in the quarter.
Laurant Buffard called his first time-out but nothing changed for his team. Touty Gandega and Williams fired in shots from behind the arc.
However Taylor and Emilija Podrug started to throw their weight about in the paint and scored valuable points.
Mondeville went into the locker room leading (38-37) with 20 points coming from Williams.
Mondeville returned from the break cold and turned the ball over three times while conceding 5 points.
Berezhynska hit a couple of free throws but the home fans had to wait until the 25th minute for the teams to draw level (42-42) through Bonnan after a pass by Williams.
Sharp hit Mondeville's sixth trey of the game for her side to go back into the lead. She added a couple more points with three minutes left in the quarter (47-42). This pushed Buffard to call another time-out.
Andreyeva hit a trey for Nantes' first points in almost six minutes of play but Mondeville were on a run.
Berezhynska and Bonnan added points inside before Anne-Sophie Pagnier hit a baseline trey to close the scoring (54-47).
Nantes-Rezé basically picked up defensively in the final quarter and stopped Williams from having a chance to shoot.
Mame-Marie Sy-Diop, Taylor and Cousseins-Smith brought Nantes-Rezé back on level terms (56-56) with five minutes to play.
Nantes-Rezé kept the defense tight and with 39 seconds left to play they led by a single point (64-63).
Niedola then took her eye off Williams for a split second and Williams hit a trey for her first points of the second half.
However Cousseins-Smith saved the day by tying the game with the last score of the game (66-66).
USO Mondeville: Touty Gandega 3, Anne-Sophie Pagnier 3, Aija Brumermane 4, K. B. Sharp 12 (4 assists), Lenae Williams 23 (4 assists), Awa Sissiko DNP, Yacine Séné 2, Pauline Thizy 2, Aurélie Bonnan 8, Valeriya Berezhynska 9 (9 rebounds)
Nantes-Rezé: Florine Basque 0, Caroline Aubert 2 (9 assists), Joyce Cousseins-Smith 15, Mélanie Plust 0, Yuliya Andreyeva 11, Mame-Marie Sy-Diop 7, Lindsay Taylor 9, Sabine Niedola 6, Emilija Podrug 16 (12 rebounds)
---
Return from LFB Basketball News to Ligue Féminine de BasketBall index
Go to Women Playing Basketball In France Home Page
Return to the top of page
---
LFB Basketball news picture credits:
LFB

Date created: 06 May 2011
---