2012 LFB Challenge Round final
Nantes-Rezé are champions for the third time
The LFB will have to design a new LFB Challenge Round trophy for next season because Nantes-Rezé's third consecutive victory means that the club can keep the trophy for good.
For Laurent Buffard and Jacky Moreau it was a nice way to end their three-year stay at Nantes-Rezé.
However with both teams securing EuroCup Women basketball for 2013 by qualifying for the Challenge Round final, the final was low key in terms of people attending the game.
For Hainaut Basket, Clémence Beikes made her return to the basketball court after undergoing arthroscopic surgery five months ago.
Caroline Aubert was quickly into her stride with 4 early points as her team raced into an early lead (10-5) midway through the opening quarter.
Hainaut Basket without Amisha Carter again, struggled to contain Nantes-Rezé inside the paint and finished the first quarter trailing (14-20).
Aminata Nar Diop continued her mini-festival at the start of the second quarter as Nantes-Rezé pushed ahead (24-15) with less than 12 minutes played.
Corinne Benintendi from Hainaut Basket called for a time-out first to calm herself down, then refocus her players. The result was positive because - led by Emilie Silbande-Petiteau - the hosts reduced the deficit to a single point (23-25) less than three minutes later.
The game finally opened up and both teams finished the first half with a flourish of basket. Despite having a bad day from behind the arc Nantes-Rezé led (35-31) at the break.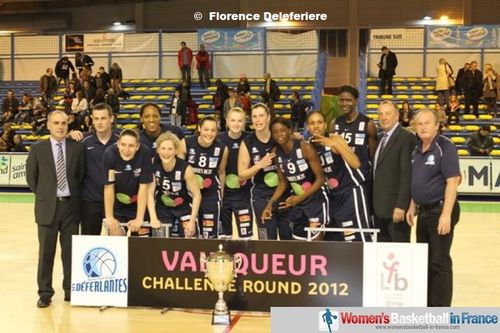 The start of the third quarter was slow and hard as both sides found it easier to miss or turn the ball over than score. Yet the hosts drew level (41-41) from an AND-1 play by Frédérique Aiyssi.
The teams were still tied at (46-46) half way through the quarter after Johanne Gomis and Ashely Houts traded three-pointers.
Silbande-Petiteau and Aiyssi were the driving force as Hainaut Basket finished the third quarter for their side to go in front (53-50).
However the turning point in the match came eight seconds into the final quarter with Silbande-Petiteau picking up her 4rth foul.
Without her on the court Hainaut did not score and by the time she returned three minutes later her team trailed (53-56).
Union Hainaut drew level on two occasions but Nantes-Rezé managed to make the following attack successful and took the lead for good with a three-pointer by Lenae Williams (65-62) with just under a minute to play.
The rest of the points came from the free-throw line. Hainaut Basket had one last attempt to send the game into overtime but Marina Solopova's baseline three-pointer hit the rim and bounced out.
Hainaut Basket: Tanya Sinacouty DNP, Tracy Albicy DNP, Carine Paul 2, Claire Jacotot DNP, Clémence Beikes 7, Emilie Silbande-Petiteau 16, Ashley Houts 13, Marie-Frédérique Aiyssi 14 (11 rebounds), Marina Solopova 8, Izabela Piekarska 4
Nantes Rezé: Caroline Aubert 11 (6 assists), Claire Stievenard DNP, Sarah Michel 2, Johanne Gomis 17, Lenae Williams 11, Yuliya Andreyeva 5, Doriane Tahane 4, Aurélie Bonnan 2 (5 assists, 10 rebounds), Aminata Nar Diop 15
---
Look back at what happened in game 1 of the challenge round: Nantes-Rezé 72-67 Hainaut Basket
Go to Ligue Féminine de Basket 2011-2012 page
Leave Ligue Féminine de Basket - Season 2011-2012 page and return to home page
Return to the top of LFB basketball news
LFB challenge round picture credits:


Florence Deleferiere


Date created: 7 May 2012

---