2012 LFB Challenge Round final
Nantes-Rezé won game one
Nantes-Rezé are one win away from defending their LFB Challenge Round trophy after beating Hainaut Basket (72-67) in the opening match in the best-of-three series.
This was also the last match at home for Laurent Buffard and Jacky Moreau who are leaving the club at the end of the season.
The second game is scheduled for Tuesday, 2 May 2012.
Both teams did not have a complete roster for this game: the hosts were without Lenae Williams and Regina Palusna while for Hainaut Basket Amisha Carter and Radoslava Bachvarova did not make the trip.
Nantes-Rezé were on fire dominating the first quarter with a 53% success rate from the floor which included 3-of-3 from beyond the arc (23-10).
Yet it it was Izabela Piekarska who opened the scoring with a three-pointer from down town with 29 seconds played. But once Caroline Aubert got going with back to back scores, Nantes-Rezé took control and finished the opening quarter with a 10-0 run.
Hainaut Basket put behind them their opening quarter 4-of-19 with a much better offensive performance to start the second quarter.
Ashley Houts and Piekarska hit three-pointers in a 13-4 run that reduced the guests' deficit to 5 points (23-27).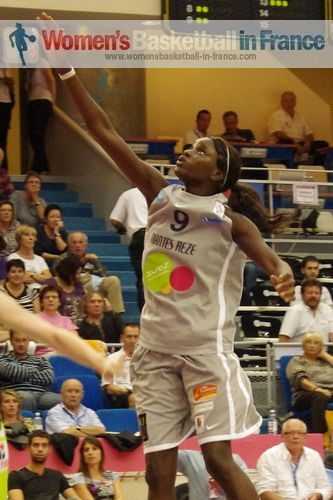 Laurent Buffard decided to recall Sarah Michel and Johanne Gomis (in picture) from the bench as he saw his team's advantage evaporate. Yet it was a three-pointer by Yuliya Andreyeva that got Nantes-Rezé going once more.
Corinne Benintendi eventually called for a time-out with just over five minutes remaining in the second quarter. She then switched her team's defense to zone in an attempt to slow her opponents down.
Benintendi's tactics did slow Nantes-Rezé down offensively but at the same time her team also stopped scoring with the result that Nantes-Rezé went into the locker room leading (37-27).
The third quarter belonged to the Nantes-Rezé duo of Doriane Tahane (11 points) and Aurélie Bonnan who were the main players in an 11-0 run that put the hosts up (56-36) after 27 minutes.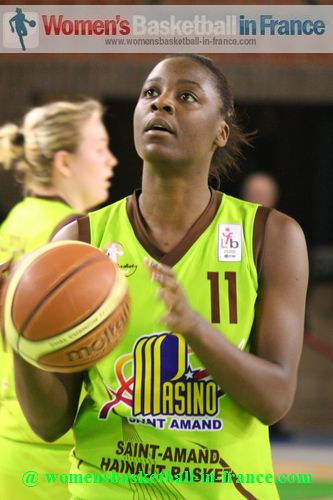 Marina Solopova and Marie-Frédérique Aiyssi (in picture) pulled up the big plays as Hainuat Basket reverted to shooting from distance. Their success enabled Hainaut Basket to bring down the deficit to single digits by the end of the quarter (48-56).
The final quarter was a yo-yo affair. First the hosts pushed up their advantage to 14 points, then the guests went on a 10-0 run.
So with four minutes to play it was anybody's game with the hosts leading (63-59). When Johanne Gomis stepped up with a couple of big shots Nantes-Rezé was able to hold off Hainaut Basket.
Nantes Rezé: Tiphaine Melois DNP, Caroline Aubert 12 (4 assists), Claire Stievenard 2, Sarah Michel 3, Johanne Gomis 22, Yuliya Andreyeva 8, Doriane Tahane 13, Aurélie Bonnan 4 (8 assists, 11 rebounds), Aminata Nar Diop 8
Hainaut Basket: Tracy Albicy DNP, Carine Paul 0, Emilie Silbande-Petiteau 8, Ashley Houts 10 (5 assists), Marie-Frédérique Aiyssi 17 (9 rebounds), Marina Solopova 18, Izabela Piekarska 14
Qualification for the LFB Challenge Round final
Just click on the matches and you will be taken to the stories from the semi-final series:
Game 1: 17 April
Nantes-Rezé (8) 86-58 Tarbes (5)
Basket Landes (7) 56-44 Hainaut Basket (6)

Game 2: 20 April (20:00 CET)
Tarbes (5) 54-66 Nantes-Rezé (8)
Hainaut Basket (6) 60-54 Basket Landes (7)

Game 3: 24 April (20:00 CET)

Hainaut Basket (6) 50-46 Basket Landes (7)

---
Go to Ligue Féminine de Basket 2011-2012 page
Leave Ligue Féminine de Basket - Season 2011-2012 page and return to home page
Return to the top of LFB basketball news
LFB challenge round picture credits:


womensbasketball-in-france.com


Date created: 27 April 2012

---