Entente Sportive Basket
Villeneuve d'Ascq - a new chapter

Entente Sportive Basket Villeneuve d'Ascq Lille Métropole (ESBVA-LM) decided to start a new book after the reign of Abou N'Diaye as coach came to an end on 21 January 2012 after a defeat against Charleville-Mézières with the club finishing in a disappointing 10th place.
Veuillez trouver en bas du page des informations en français sur l'effectif de Villeneuve d'Ascq.

There was never any official announcement made when N'Diaye who had a contract until 2014 had lost his job after eight years at the helm.
Frédéric Dusart took over as interim head coach for the rest of the season. The club finished in 10th place and for the second year in a row missed out on a European club competition qualification.
The pregnancy of Elodie Bertal led to a chain reaction of events: Jillian Robbins had to leave the club after the Open LFB 2011 because they needed to find a player with a profile similar to Bertal's.
Cathrine Kraayveld was signed but she decided to leave at Christmas.
Then Sidney Spencer joined in January and stayed till the end of the season.
However the dream team of Villeneuve d'Ascq never took off because all through the season a player or two were injured.
With the season over Sabrina Palie retired while the rest of the players with the exception of Alice Nayo and Olayinka Sanni left Entente Sportive Basket Villeneuve d'Ascq Lille Métropole.

Frédéric Dusart's status as interim coach changed to Head Coach. His assistant is former Villeneuve d'Ascq favourite Ljubica. Of the eight players recruited it was the signing of Emma Meesseman that made the headlines.
It appeared that she was heading to Sparta&K Moscow Region but an agreement was made with Entente Sportive Basket Villeneuve d'Ascq Lille Métropole for her to play in France for the next two seasons.
Many of the new players have played for clubs in the North of France before while for Bintou Diémé it is simply a return to the club.
Bojana Vulic has been signed on a medical replacement contract for eight weeks while Meesseman recovers from a fractured wrist (metacarpus).
The team roster is as follows: 6 Émilie Duvivier, 7 Bintou Diémé, 8 Stéphanie Dubois, 9 Amélie Pochet, 10 Jennifer Digbeu, 11 Emma Meesseman, 12 Alice Nayo, 13 Olayinka Sanni, 14 Lenae Williams, 15 Sandra Pirsic.
Nouvel effectif - nouvelle chance
de conquérir l'Europe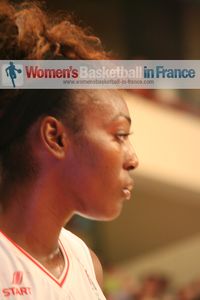 A part de Alice Nayo, Olayinka Sanni est l'autre joueuse qui a ressigné après une saison désastreuse au sein de l'Entente Sportive Basket Villeneuve. Après plusieures défaites le contrat de Abou N'Diaye se termine en Janvier 2012. Son assistant prend les reines, mais le club termine que 10e dans la saison régulière.
Pour la nouvelle saison 2012-13, le coach intérim Frédéric Dusart est devenu l'entraineur de Villeneuve et Sanni est la capitaine qui a l'intention de se battre pour que sa formation retrouve le top 5. Elle précise aussi que les supporteurs apportent beaucoup avec leur gentillesse, qu'ils sont très accueillants et la laisse sentir comme une part de cette famille.
Mais le rêve de Villeneuve n'est pas seulement de redevenir un des meilleurs clubs en France, mais aussi de se qualifier pour l' EuroCoupe ou l'EuroLigue.

Départs : Sabrina Palie (arrêt), Laurie Datchy (Tarbes), Emilie Gomis (Lattes Montpellier), Anne Breitreiner, Sydney Spencer, Sabrine Bouzenna, Kathy Wambe (Schio, Italie)

Arrivées : Jennifer Digbeu (Bourges), Émilie Duvivier (Calais), Stéphanie Dubois (Nice), Sandra Pirsic (Rivas Ecopolis, Espagne), Lenae Williams (Nantes-Rezé), Bintou Diémé (Le Havre), Amélie Pochet (Basket Landes), Emma Meesseman (Belgique)

L'effectif complet de Villeneuve d'Ascq pour 2012-2013 : Bintou Diémé (1, 1m67, 1984), Émilie Duvivier (2, 1m68, 1984), Lenae Williams (3, 1m82, 1982), Stéphanie Dubois (3, 1m83, 1983), Amélie Pochet (3, 1m80, 1984), Jennifer Digbeu (4, 1m90, 1987), Alice Nayo (4, 1m86, 1993), Emma Meesseman (5, 1m92, 1993), Olayinka Sanni (5, 1m88, 1986), Sandra Pirsic (5, 1m97, 1987)

---
Visit our home page
Visit our "What's New" page
picture credits:
womensbasketball-in-france.com

Date created: 1 October 2012
Like this page / Aimez cette page