Lyon Basket Féminin - 2012-2013
Dream team for Laurent Buffard

Lyon Basket Féminin have been given a second chance in promoting women's basketball in Lyon after a disastrous first attempt last season (2011-2012).
This season Lyon has a roster that resembles that of Challes-les-Eaux which puts them in the category or regular season favourites with Bourges Basket.
Veuillez trouvez en bas du page des informations en français sur l'effectif 2012-13 de Lyon BF.

In 2011-12 Lyon BF finished in 13th place and were heading to Ligue Féminine 2 until a possible merger with Challes-les-Eaux was proposed.
In the end Challes-les-Eaux disappeared and Lyon were able to keep its LFB status.
Pierre Bressant was the first casualty of the poor season. He was relieved of his duties as head coach in April 2012, after their last game.
Most of the players were on contracts for one season and their contracts were not extended.
Only Leslie Ardon, Mame-Marie Sy Diop and Audrey Sauret were retained by Lyon Basket.
Charline Servage had not been released but with no certainty of her role under the new coach Laurent Buffard, she decided to find another club.
In the end Buffard had no recruiting to do because all the players from Challes-les-Eaux with the exception of Anaël Lardy joined Lyon.
Challes-les-Eaux finished in 3rd place last season and had been one of the best teams in France over the last two seasons.
Buffard more or less has his dream team: Emilija Podrug and Mame-Marie Sy Diop played for him at Nantes-Rezé while Audrey Sauret was a key player for him at USVO.
Lyon are one of the favourites for the title this season and when Mistie Mims returns from the WNBA they should be at full strength.

Last season Lyon Basket's management team gave the impression that the marketing of their tunic was important. In the end Bressant did not keep his promise of modelling it which is just as well because for this season they have changed suppliers and design.
The LFB roster is: 4 Maria Sanchez, 5 Romy Bär, 6 Alexia Plagnard 7 Leslie Makosso, 8 Mélanie Plust, 9 Audrey Sauret, 10 Leslie Ardon, 11 Mistie Mims, 12 Mame-Marie Sy Diop, 13 Sara Chevaugeon, 14 Danielle Page, 15 Emilija Podrug.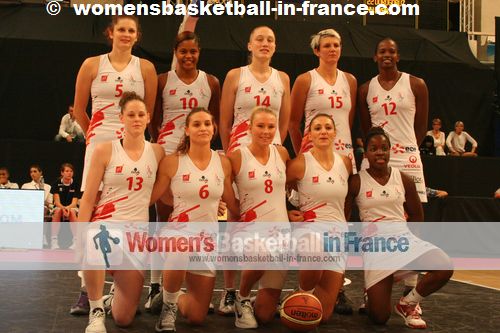 Dessus-dessous de Lyon BF

Victorieux Challes-les-Eaux a disparu à cause des problèmes financières et ainsi laissant la place en LFB au relégué Lyon BF.
Pourtant Lyon Basket Féminin ressemble plutôt à la formation de Challes avec plus au moins les mêmes joueuses. Celles qui restent de Lyon sont Leslie Ardon, Mame-Marie Sy Diop et Audrey Sauret.
Ce n'est pas tout. Avec Laurent Buffard, le nouveau coach, nous expectons que Lyon BF challenge au moins le top 5!

Départs : Marion Arfélis (Pau, LF2), Charline Servage, Marissa Coleman, Julie Legoupil (Toulouse), Sarra Ouerghi, Krystal Thomas, Leigh Aziz

Arrivées : Laurent Buffard (coach, Nantes-Rezé), Mistie Mims (Challes-les-Eaux), Sara Chevaugeon (Challes-les-Eaux), Danielle Page (Challes-les-Eaux), Alexia Plagnard (Challes-les-Eaux), Mélanie Plust (Challes-les-Eaux), Emilija Podrug (Challes-les-Eaux), Romy Bär (Challes-les-Eaux)

Effectifs 2012-2013 : Alexia Plagnard (1, 1m70, 1990), Audrey Sauret (1-2, 1m79, 1976), Mélanie Plust (2, 1m73, 1989), Leslie Ardon (3, 1m81, 1979), Sara Chevaugeon (3, 1m75, 1993), Romy Bär (3-4, 1m87, 1987), Mistie Mims (4, 1m90, 1983), Mame-Marie Sy Diop (4, 1m84, 1985), Danielle Page (4-5, 1m88, 1986), Emilija Podrug (5, 1m90, 1979)


---
Visit our home page
Visit our "What's New" page
picture credits:
womensbasketball-in-france.com

Date created: 2 October 2012
Like this page / Aimez cette page