Tarbes Basket looking
to the future

Tarbes Basket (Tarbes-Gespe-Bigorre, TGB) are looking to bounce back in 2012-13 after 12 months of frustration on and off the court.
Veuillez trouver en bas du page des informations en français sur l'effectif de TGB.

Excluding players from the basketball academy, last season Tarbes signed a total of 14 players.
Isis Arrondo terminated her contract in December 2011 and went off to play in Belgium, while Ljubica Drljaca's contract was terminated. Not much was said about Lauren Neaves who had stopped playing in October because of her meniscus.
By the end of January 2012 Pascal Pisan was removed as head coach by the president.
The final drama was an 8-point deduction that was only removed in time for the post-season play-offs.
Despite a poor EuroLeague Women competition that ended in 12 defeats from 12 games Tarbes went on to play their best basketball under the interim coach Marie-Pierre Uriarte.
Tarbes just missed the championship play-off series by a single point and had to settle for joint 5th place. They were eliminated by Nantes-Rezé in the LFB Challenege Round semi-final.

The only players to return from last season are: Paoline Salagnac, Naura El Gargati and Charlotte Preiss.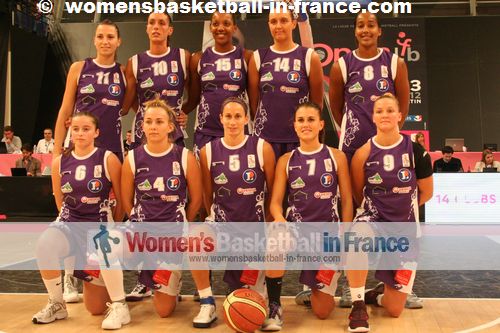 For this season 2012-13 Cyril Sicsic is the coach. He has one season to prove that that he can take Tarbes Basket back to the top of French basketball. His assistant is the former Lithuanian international Lina Brazdeïkyte who played under Sicsic for three seasons at COB Calais.
Sicsic's contract was signed in May but the President of Tarbes Basket had more or less completed the recruitment for the next season. Joyce Cousseins-Smith who had signed for Challes-les-Eaux was a late addition to the roster.

The seven new players are: Angelica Robinson, Laurie Datchy, Gabriela Ocete, Jovana Rad, Linda Bousbaa, Lauren Ervin and Joyce Cousseins-Smith.
With just two players over the age of 25 the Tarbes should not be as experienced as in previous seasons. However with Paoline Salagnac as captain Tarbes Basket have one of the most motivated players in the Ligue Féminine de Basketball.
The LFB and EuroCup Women full TGB roster for the season is: 4 Joyce Cousseins-Smith, 5 Poaline Salagnac, 6 Linda Bousbaa, 6 Elise Marié, 7 Gabriela Ocete, 8 Lauren Ervin, 9 Laurie Datchy, 10 Naura El Gargati, 11 Jovana Rad, 14 Charlotte Preiss, 15 Angelica Robinson.
Due to the injury to Linda Bousbaa, Elise Marié has been called in from the academy team.

Nouvelles joueuses, nouveau coach au Tarbes Basket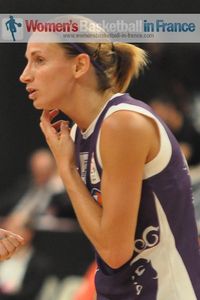 Après une saison désastreuse au niveau de recrutement des joueuses (14 en total), le licenciement de Pascal Pisan et que des défaites à l'EuroBasket, le club avec un entraineur intérim Marie-Pierre Uriarte finit quand même 5ème dans la saison régulière.
Pour 2012-13, le nouvel entraineur Cyril Sicsic doit se montrer à la hauteur pour prouver que Tarbes est un club puissant. De l'ancienne formation sont revenues Paoline Salagnac (dans l'image), Naura El Gargati et Charlotte Preiss.
Départs : Ana Cata-Chitiga (Lattes-Montpellier), Lizanne Murphy (Pays d'Aix), Maja Miljkovic, Florence Lepron, Alexandria Montgomery, Pauline Krawczyk (Bourges), Daria Mieloszynska-Zwolak, Lauren Neaves, Élodie Guillenteguy (Pau Lacq Orthez, LF2), Ljubica Drljaca (Adjoint Villeneuve d'Ascq), Isis Arrondo (Nantes-Rezé)

Arrivées : Cyril Sicsic (coach, Calais), Angelica Robinson (Gérone, Espagne), Laurie Datchy (Tarbes), Gabriela Ocete (Mariana, Espagne), Jovana Rad (Navarra, Espagne), Linda Bousbaa (Limoges, LF2), Lauren Ervin (Le-Zion, Israël), Joyce Cousseins-Smith (Arras)

Effectifs 2012-2013 : Gabriela Ocete (1, 1m70, 1988), Linda Bousbaa (1, 1m65, 1991), Joyce Cousseins-Smith (1, 1m65, 1988), Paoline Salagnac (2, 1m76, 1984), Laurie Datchy (2, 1m72, 1990), Jovana Rad (3, 1m87, 1987), Naura El Gargati (4, 1m92, 1980), Lauren Ervin (4, 1,91 m, 27 ans), Angelica Robinson (5, 1m96, 1987), Charlotte Preiss (5, 1m95, 1987)

Elise Marié (1, 1995) du centre de formation de TGB remplacera Linda Bousbaa jusqu'à sa convalescence.

---
Visit our home page
Visit our "What's New" page
picture credits:
womensbasketball-in-france.com

Date created: 28 September 2012
Like this page / Aimez cette page