In Toulouse
basketball is played with pride
In Toulouse basketball has to compete with rugby, football, handball and volleyball for sponsors' attention. Finding funding has not been an easy task for the management team of Toulouse Métropole Basket after their relegation to LF2 in 2011.
Veuillez trouver en bas du page des informations en français sur l'effectif de Toulouse pour la saison 2012-13 en LFB.

The task for Matthieu Chauvet, who is in his second season in the club, is to avoid relegation. His budget is the smallest in the LFB this season but the club was still able to bring in four players.
While the average age of the team is slightly higher than USO Mondeville's, the players have less experience at this level of basketball. However most of the players have represented their countries at youth level.
Julie Legoupil who is one of the new players and also the oldest ones on the team at the age of 27.
So for the 2012-13 season the ladies representing Toulouse Basketball in the LFB are: 4 Inesa Visagaudaite, 6 Agathe Degorces, 7 Julie Legoupil, 9 Darline Nsoki, 10 Demetress Adams, 11 Maud Medenou, 12 Carrem Gay, 14 Adrijana Knezevic, 15 Lorraine Lokoka.
Lola De Angelis should continue in her role with the first team but is likely to play more with the U20 team. Manon Le Glohec replaces Lou Mataly as the training partner for the senior team.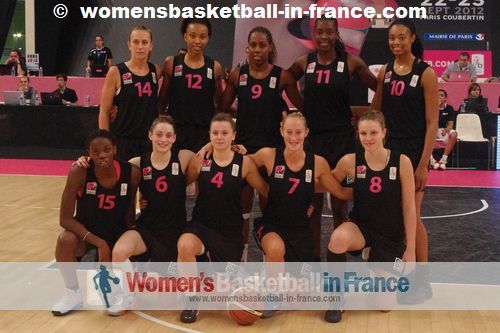 Que le maintien de Toulouse en LFB ?

Après avoir été relégué en LF2 la saison dernière, les Toulousaines avaient réussit plus vite que prévu une promotion en LFB avec Matthieu Chauvet.
Chauvet a prouvé que Toulouse arriva même avec une jeune équipe en se qualifiant pour la finale au final four en LF2 contre Perpignan. Il rassure pour cette saison : « Nous sommes prêts pour la Ligue 1 et nous comptons bien y rester.» Le club a intégré quatre nouvelles joueuses dans la formation dont Chauvet dit: « une bonne assise avec des filles qui ont appris à travailler avec moi.
Nous avons déjà des repères. Au niveau de la préparation, je dirais que cela nous donne quinze jours d'avance par rapport à la saison dernière. Je suis satisfait de cette reprise effectuée dans une bonne atmosphère de travail.»
Départs : Émilie Maurice (retraite), Lou Mataly, Jessie De Colo, Nina Bogicevic

Arrivées : Julie Legoupil (Lyon), Demetress Adams (Celta Vigo, Espagne), Inesa Visagaudaite (Lemminkainen Klaipeda, Lituanie), Adrijana Knezevic (Suède)

Effectifs 2012-2013 de Toulouse Basketball: Inesa Visagaudaite (1, 1m72, 1991), Agathe Degorces (1, 1m67, 1992), Julie Legoupil (2, 1m73, 1984), Darline Nsoki (3, 1m82, 1989), Lola De Angelis (3, 1m80, 1993), Lorraine Lokoka (3, 1m84, 1989), Binta Drammeh (3, 1m80, 1992), Maud Medenou (4, 1m89, 1990), Demetress Adams (4, 1m93, 1987), Carrem Gay (5, 1m88, 1987), Adrijana Knezevic (3, 1m80, 1987)


---
Visit our home page
Visit our "What's New" page
picture credits:
womensbasketball-in-france.com

Date created: 02 October 2012
Like this page / Aimez cette page