Hainaut Basket team roster 2012-2013

Union Hainaut Basket's plans for their third season in the Ligue féminine de basketball is simple, improve on the results of 2011-2012.
They were tied for 5th place at the end of the regular season last year and qualified for the LFB Challenge Round final while they were quarter-finalists in the EuroCup Women competition.
Veuillez trouver en bas du page des informations en français sur le nouvel effectif de Union Hainaut Basket.

Despite the success of last year, the club had a terrible time with injuries and were forced to sign two medical replacements.

Clémence Beikes missed most of the season and was replaced by Radoslava Bachvarova while Petra Stampalija had to be replaced by Izabela Piekarska for practically the second part of the season.
While Beikes is back for what should be her final season of playing professional basketball, Bachvarova, Piekarska and Stampalija have left the club.
The two other foreigners from last season have also not returned: Amisha Carter who was injured during the semi-final of the LFB Challenge round who was required to have shoulder surgery and Lithuanian international Marina Solopova.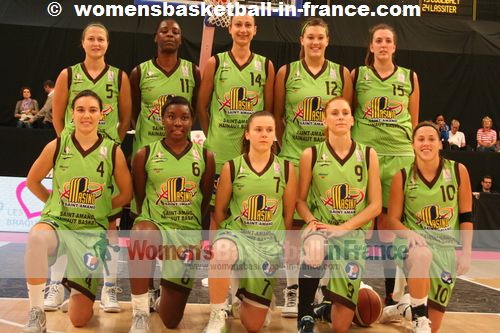 For this season Hainaut Basket have acquired the service of Stefanie Murphy and Vera Perostiyska to take care of the inside. The other signing is Romina Ciappina from Belgium who is the replacement for Solopova. Ashley Houts is the only non-French player to return.

Unfortunately Beikes' injury problems continue and Laura Garcia has been signed on a medical replacement contract.
All the French senior players from last season have returned and the rest of the roster is made up from players from the club's academy.
The official LFB and EuroCup roster for 2012-13 season is as follows: 4 Laura Garcia, 5 Romina Ciappina, 6 Carine Paul, 8 Clémence Beikes, 9 Emilie Silbande, 10 Ashley Hout, 11 Marie-Frédérique Ayissi, 12 Stefanie Murphy, 15 Vera Perostiyska
Tanya Sinacouty, Margot Vidal-Genève and Nelly Larraud, players from Hainaut's academy, continue their development by working with the first team.
Hainaut Basket rêve d'un bon parcours au championnat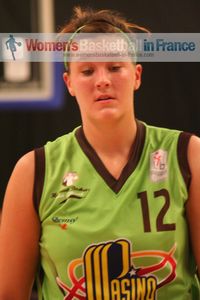 Stefanie Murphy (dans l'image), déjà pourchassée par Hainaut Basket depuis deux ans, joint finalement la formation en tant qu'intérieure et est renforcée par la deuxième recrue de cette saison Vera Perostiyska. Il y a encore une troixième joueuse qui, selon Corinne Bénintendi devrait "apporter beaucoup en termes de scoring car elle a une très bonne adresse". C'est Romina Ciappina, une jeune ailière shooteuse Belge.
Les trois nouvelles joueuses devraient combler le départ de Bachvarova, Piekarska et Stampalijala. Avec la blessure de Clémence Beikes, Laura Garcia la remplace en tant que joker médical.
L'effectif de 2012-13 se compose de: Ashley Houts (1, 1m68, 1987), Carine Paul (2-1, 1m76, 1988), Clémence Beikes (2-3, 1m80, 1983), Romina Ciappina (3, 1m80, 1988), Marie-Frédérique Ayissi (3-4, 1m84, 1982), Stefanie Murphy (4, 1m93, 1989), Vera Perostiyska (5, 1m96, 1982), Emilie Silbande (2, 1m78, 1981), Laura Garcia (2, 1m75, 1981)

Les joeuses du centre de formation qui vont avoir la possibilité de jouer avec l'équipe 1 sont: Margot Vidal-Genève ( 1, 1m63, 1995), Tanya Sinacouty (1, 1m65, 1996) et Nelly Larraud (5, 1m89, 1993).

---
Visit our home page
Visit our "What's New" page
picture credits:
womensbasketball-in-france.com

Date created: 28 September 2012
Like this page / Aimez cette page