Can the Flammes Carolo Basket
3-point shoot
their way into Europe ?

Flammes Carolo Basket Ardennes ASPTT (FCB) is the official name of the women's basketball team from Charleville-Mézières.
Their hall "Salle Bayard" became a household name in France because of an incredible sequence of three-point buzzer beaters that started with Amel Bouderra's full court exploit in October 2011 and finished with a mid-court shot by Anne-Sophie Pagnier in April 2012.
Veuillez trouver en bas du page des informations en français sur l'effectif du FCB.

Charleville-Mézières's ambitions for this season is to qualify for the end-of-season play-offs and challenge for a place in one of the European club competitions.
Last season at home they were hard to beat and played some of the most exciting basketball. But on the road they were terrible and at times unrecognisable.
Although Flammes Carolo Basket had big aspirations including a construction of a new hall, they had a limited budget. As a consequence they could not afford to bring in replacement players to cover for injury or absence.

Djéné Diawara missed the start of the season to play in AfroBasket while Eléonore Grossemy who was injured during the U19 World Championship only started playing late in the season.

On top of all this Magali Lacroix retired in December and was never replaced.
As a result the team played most of their games with just seven players.

Although the Flammes Carolo Basket were never in danger of relegation, they were also never in a position to challenge for the play-offs and ended up finishing in 9th place.
From the last season's roster: Zoi Dimitrakou, Coralie Desprez, Elodie Pélissou, Magali Lacroix, Eléonore Grossemy, Cassandra Vêtu and Valeriya Berezhynska are all gone.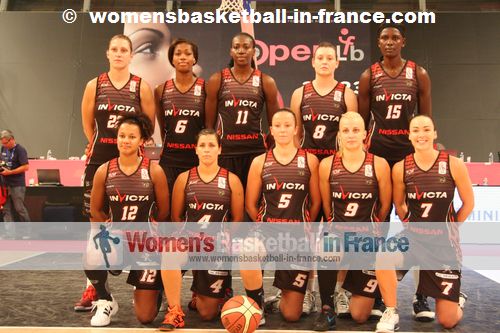 This season four new players have joined the Flammes Carolo Basket team: Aurélie Bonnan, Aminata Nar Diop, Johanna Joseph and Sheana Mosch. In addition Claire Michel who still qualifies for the U20 team has been promoted to the first team.
Bonnan and Nar Diop played on the same team at Nantes-Rezé last season (2011-2012). Bonnan had also played at Mondeville with team captain Yacine Séné and Anne-Sophie Pagnier.
The LFB roster for 2012-2013 is: 4 Amel Bouderra, 5 Anne-Sophie Pagnier, 6 Johanna Joseph, 7 Sheana Mosch, 8 Claire Michel, 9 Ekaterina Dimitrova, 11 Djéné Diawara, 12 Yacine Séné, 15 Aminata Nar Diop, 22 Aurélie Bonnan.
The team has the potential to light up the championship again this season and with their partnership with Ardennes TV many games should be streamed live and free.

The flammes Carolo éblouisseront-elles à nouveau le championnat?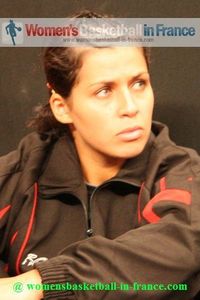 Avec quatre nouvelles recrues, la formation reste presque intacte par rapport à la saison dernière où les joueuses savaient enflammer leur public à domicile avec des actions impressionnantes et des exploits avec des shoots de trois points. Nous n'avons pas oublié Amel Bouderra (dans l'image) qui marqua un panier de l'autre bout du terrain.

Avec Aurélie Bonnan l'équipe trouve une joueuse qui devrait y apporter son expérience pour les aider de se montrer aussi présent jouant à l'extérieur.

Départs : Zoi Dimitrakou (Bourges Basket), Coralie Deprez (Dunkerque Malp), Valeriya Berezhynska (Polkowice), Éléonore Grossemy (Arrêt), Magali Lacroix (Arrêt), Elodie Pélissou (Reims BF), Cassandra Vêtu (Hainaut Basket)

Arrivées : Aurélie Bonnan (Nantes), Sheana Mosch (Antakya, Turquie), Johanna Joseph (Voiron, LF2), Aminata Nar Diop (Nantes), Claire Michel (Challes-les-Eaux Espoir)

Effectifs 2012-2013 : Amel Bouderra (1, 1m63, 1989), Sheana Mosch (1, 1m78, 1981), Ekaterina Dimitrova (2, 1m80, 1987), Anne-Sophie Pagnier (2, 1m80, 1987), Yacine Sene (3, 1m83, 1982), Aurélie Bonnan (4, 1m87, 1983), Johanna Joseph (4, 1m85, 1992), Djéné Diawara (5, 1m92, 1988)


---
Visit our home page
Visit our "What's New" page
picture credits:
womensbasketball-in-france.com

Date created: 28 September 2012
Like this page / Aimez cette page