Arras, Challes-les Eaux and Montpellier
top of Ligue Féminine de Basketball
The Ligue Féminine home début of Valérie Garnier as coach of Bourges Basket ended in defeat against Basket Landes (55-58) in the big surprise of the third round of games.
En bas du page vous trouvez un résumé sur la troisième journée en français.
Bourges Basket had a great start to the game leading (12-4) with just five minutes played. Kiesha Brown from Bourges Basket was unstoppable during the first ten minutes with 10 points, while Céline Dumerc dished out 4 assists.
However Jennifer Humphrey and Anaïs Le Gluher-Cano with 6 and 4 points apiece kept Basket Landes in the hunt.
Bourges without the injured Cathy Joens and Styliani Kaltsidou were short on rotations. So Valérie Garnier, the coach decided to introduce Pauline Lithard with Margaux Galliou-Loko at the start of the second quarter while resting Dumerc and Jennifer Digbeu.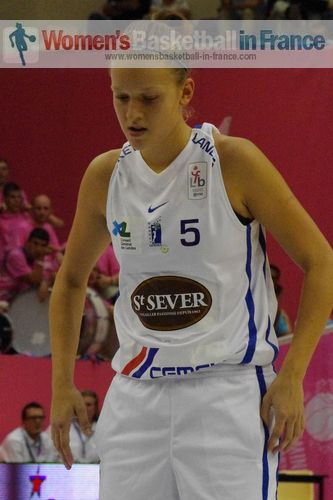 Although Nwal-Endéné Miyem scored first for Bourges, Garnier's tactic did not pay off because Camille Aubert (in picture) scored back to back scores for Basket Landes to bring down the deficit (14-18) with 12 minutes played.
Bourges were able to wrestle their way back into control with 5 points by Ieva Kublina and the hustle of Brown to open up a 10-point lead (30-20) with a minute left in the first half.
However the second quarter ended in drama as Marion Laborde from Basket Landes was fouled by Dumerc while going for a buzzer beater three-ball. Dumerc was not impressed by the call.
Laborde kept her cool and hit the 3 free-throws to close the quarter (25-31).
Both teams appeared fired up on return to the court and the game started with a 60-second scoring blitz. Bourges Basket firing in two-pointers by Nwal-Endéné Miyem and Kublina (in picture) stayed in front while Basket Landes responded with shots from the land of many (35-31).
The pendulum was swinging more in the direction of the guests who continued to hit shots from beyond the arc.
Bourges continued to struggle while Basket Landes landed their 4th try of the quarter before Humphrey tied the game (40-40) after 27 minutes.
Katarina Manic put the guests in front for the first time in the game from the free-throw line on the 28-minute mark. But Bourges managed to get the lead back by making 3-of-4 from the charity stripes (43-42).
Miyem was not having the best of games. Yet she managed to give Bourges some breathing space early on in the final quarter with back to back scores (47-42).
However this was not enough to stop Basket Landes whose collective game was strong. The players shared the scoring and despite losing Manic for 5 fouls midway through the quarter they went in front for good (53-51) with just over two minutes to play.
The game was more or less played out on the free-throw line. Bourges had the chance to tie the game in the dying second with an And-1 opportunity. However Miyem failed to convert the free-throw.
Gluher-Cano from Basket Landes was fouled immediately as Bourges needed to stop the game clock. She scored both free-throws leaving Bourges with seven seconds to tie the game.
Bourges had one more chance to take the game into overtime but messed up the last play completely.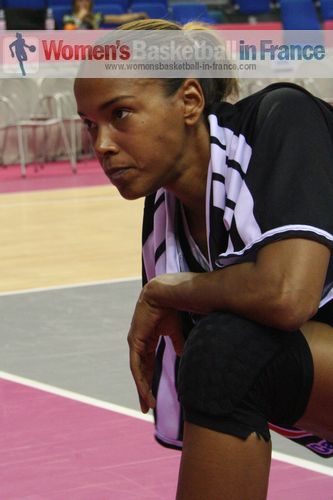 In the end Bourges lost by the 3 points they conceded at the end of the second quarter (55-58). This victory was the first for Basket Landes in the Ligue Féminine at the Prado.
Bourges must now pick themselves up for the EuroLeague Women competition which tips off in mid week.
Bourges Basket 55-58 Basket Landes
Bourges Basket: Pauline Lithard 0, Margaux Galliou-Loko 0, Ieva Kublina 12 (8 rebounds), Nwal-Endéné Miyem 14 (10 rebounds), Styliani Kaltsidou DNP, Céline Dumerc 6 (6 assists), Jennifer Digbeu 5, Marielle Amant 4, Kiesha Brown (in picture) 14, Christelle Diallo 0
Basket Landes: Camille Aubert 7, Katarina Manic 8, Bineta Diouf 3, Anaïs Le Gluher-Cano 12, Julie Barennes 3, Julia Borde, Marion Laborde 11, Sarah Ousfar DNP, Jennifer Humphrey 17 (10 rebounds and 5 assists)
Return to the top of Ligue Féminine de Basketball page
Elsewhere in the Ligue Féminine de Basketball in round 3
Arras are joint top of the LFB after notching up victory number three. They beat local rivals Villeneuve d'Ascq (80-61).
Pauline Akonga-N'Simbo was once again on fire for Arras. She scored 16 points during the first 20 minutes to help her team lead (36-29) going into the interval.
Arras' dominance in the paint resulted in 44 points. They had no problems the rest of the way. Akonga-N'Simbo finished the game with 28 points and 8 rebounds. She was also fouled 9 times and went 10-from-11 from the free-throw line. Krissy Badé (in picture) had a good all-round game with 11 points and 5 assists.
Emilie Gomis was the top scorer for Villeneuve with 17 points.
With this victory Arras join Challes-les-Eaux and Lattes Montpellier who beat Mondeville (72-67) a day earlier as the only teams undefeated after three games in the Ligue Féminine this season.
Arras 80-61 Villeneuve d'Ascq
Arras: Joyce Cousseins-Smith 5, Leilani Mitchell 0, Alexandra Tchangoue 5, Adja Konteh 4, Krissy Badé 11 (4 assists and 5 steals), Pauline Akonga-N'Simbo 28, Juliana Mialoundama DNP, Nadezdha Grishaeva 9 (11 rebounds), Gabriela Marginean 18
Villeneuve d'Ascq: Anne Breitreiner 7, Sabrine Bouzzenna 3, Alice Nayo 6, Laurie Datchy DNP, Emilie Gomis 17, Kathy Wambe 8 (3 assists), Olayinka Sanni 4, Sabrina Palie 6, Catherine Kraayeveld 10 (11 rebounds)
---
The first Rhônalpin Derby in the Ligue Féminine de Basketball was a classic
Lyon BF and Challes-les-Eaux produced an exciting derby match with plenty of drama concluded by a 4th-quarter suspense and overtime.
Lyon paid the price for allowing Challes-les-Eaux to lead at half time (45-33) as they used up a lot of energy in the second half chasing after the score.
The three-pointer by Mame-Marie Sy-Diop - in her first game for Lyon - with 30 seconds left in regulation time levelled the score (67-67). Neither team scored again and overtime was played.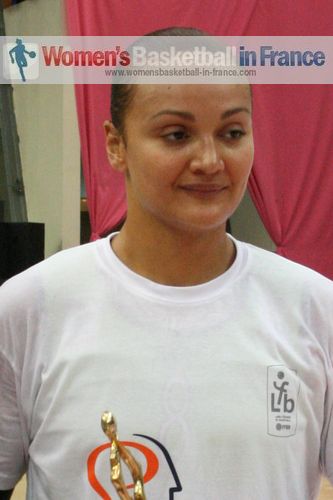 Lyon were handicapped by fouls. This resulted in Leslie Ardon, Julie Legoupil and Sy-Diop all fouling out of the game during the last five minutes and just missed out on winning their first Ligue Féminine game of the season.
Challes-les-Eaux went 8-from-10 from the free-throw line as they held on to win (77-74). In total Challes-les-Eaux scored 26-from-33 attempts from the charity stripes with Mistie Mims (left) finishing with 10-from-13 and scoring a total of 22 points while also being fouled 10 times.
The good news for Lyon is that Leigh Aziz stays at the club for the season and Krystal Thomas is joining them soon.
Lyon 74-77 Challes-les-Eaux (overtime)
Lyon: Charline Servage 16, Géraldine Bertal 6, Julie Legoupil 5, Marion Arfélis DNP, Audrey Sauret 9 (7 assists), Sarra Ouerghi 2, Leslie Ardon 8, Mame-Marie Sy-Diop 18 (12 rebounds, 2 blocks and 3 assists), Leigh Aziz 10 (9 rebounds)
Challes-les-Eaux: Anaël Lardy 11, Romy Bär 5, Alexia Plagnard 6, Mistie Mims 22, Mélanie Plust 7, Sara Chevaugeon DNP, Manon Morel DNP, Danielle Page 16 (7 rebounds), Emilija Podrug 10 (8 rebounds)
---
Australian-Spanish combination get Aix-en-Provence the victory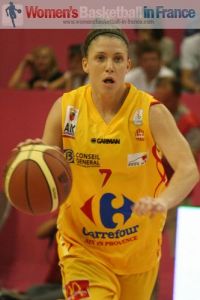 Cindy Lima for the second week in a row had a solid first-quarter scoring with 10 points from 4-of-6 attempts. However it was her Spanish collegue Tamara Abalde who led the way with 14 first-half points as Aix led Nantes-Rezé (41-32).
In the second half of the match Nathalie Hurst (in picture) took over the show finishing the match with a game high 22 points while dishing out 5 assists as her team rolled over Nantes.
Caroline Aubert and Doriane Tahane had 16 points each for the guests. But it was not enough for the team to get into the game.
Aix-en-Provence: Emmanuella Gorjeu 0, Claire Tomaszeski 0, Tamara Abalde 21, Nathalie Hurst 22 (5 assists), Kelly Corre 3, Sylvie Gruszczynski 7, Cindy Lima 14, Lina Jansone 11, N'deye N'Diaye 6
Nantes Rezé: Tiphaine Melois 0, Caroline Aubert 16 (6 assists), Tania Boucand DNP, Sarah Michel 4, Johanne Gomis 13, Lenae Williams 3, Yuliya Andreyeva 8, Regina Palusna 7, Doriane Tahane 16
---
At last something to celebrate at Charleville-Mézières
A 9-0 run at the start of the final quarter put an end to Cavigal Nice's battle and allowed Charleville-Mézières to celebrate the first victory in the Ligue Féminine de Basketball this season.
Greek international Zoi Dimitrakou's (26 points) energy up and down the court and the crisp passing of Amel Bouderra (in picture) with 10 assists enabled the hosts to win the game.
Valeriya Berezhynska held her job inside scoring 20 points and picking up 9 defensive rebounds while neutralising the Nice inside players.
For Cavigal Nice Fabienne Constant and Jeanne Senghor-Sy combined for 38 points. But with not much coming offensively by other players the team disintegrated during the final minutes.
Bouderra came up with the shot of the week to close the first half when she fired in a buzzer beater from practically the whole length of the court.
Charleville-Mézières Amel Bouderra 12 (10 assists), Anne-Sophie Pagnier 9 (5 assists), Zoi Dimitrakou 26, Coralie Desprez DNP, Elodie Pélissou DNP, Ekaterina Dimitrova 4, Magali Lacroix 2, Yacine Sène 5, Valeriya Berezhynska 20 (10 rebounds)
Nice: Aminata Konate 2, Merike Anderson 3, Barbara Cousin 2, Kesley Bolte 3, Krysten Boogaard 0, Stéphanie Dubois 7 (6 assists), Elodie Decker 4, Fabienne Constant 24 (8 rebounds), Guiday Mendy 2, Jeanne Senghor-Sy 14
Return to the top of Ligue Féminine de Basketball page
Loading video....
Le pannier de Bouderra est magique
Bourges Basket 55-58 Basket Landes
Pourtant Bourges se trouve au Prado, les joeuses de Bourges Basket ont bien du mal de garder leur avantage contre les Landaises qui profitent des absences Berruyèriennes de Cathy Joens et Styliani Kaltsidou. C'est alors à Jennifer Humphrey et à la fin à Anaïs Gluher-Cano de sceller la victoire pour Basket Landes.
Arras 80-61 Villeneuve d'Ascq
Arras continue à montrer sa forme dans le derby contre Villeneuve d'Ascq. Pauline Akonga N'Simbo met la pression sur Emilie Gomis et ses partenaires avec 28 points. L'ESBVA ne revient plus après l'interval et perd logiquement.
Lyon 74-77 Challes-les-Eaux (après prolongation)
Ca se jouait de peu. Mais à la fin les fautes contre les Lyonnaises avec 5 pour Mame-Marie Sy-Diop (18 pts, 12 rbds), Leslie Ardon et Julie Legoupil et un presque parfait résultat des Savoyardes en lancer-francs permettait à Challes de gagner ce match en prolongation.
Pays d'Aix 84-67 Nantes Rezé
La combinaison des joueuses d'Australie-Espagne porte ses fruits pour Aix-en-Provence contre une équipe de Nantes portées surtout par Caroline Aubert et Doriane Tahane. Aix gagne enfin son premier match de la saison avec Tamara Abalde et Nathalie Hurst marquant 43 points au total à elles deux.
Charleville-Mézières 78-61 Nice
Rien était perdu pour les deux équipes jusqu'au dernier quart ou le jeu de Cavigal Nice perdait de l'intensité. Les bonnes passes décisives, 10 en total d'Amel Bouderra et les 36 points de ses deux co-équipières Zoi Dimitrakou et Valeriya Berezhynska l'ont mené à emporter leur première victoire de la saison malgré les 24 points de Fabienne Constant et les 14 points de Jeanne Senghor de Nice Cavigal.
A ne pas oublier au buzzer avant la pause le pannier phéoménale de Bouderra de sa propre raquette!
Hainaut Basket 61-67 Tarbes
Saint-Amand s'incline dans les dernières minutes avec une Paoline Salagnac qui porte Tarbes. Le match est à revoir sur LFB-TV.
Mondeville 67-72 Montpellier
Mondeville a l'avantage dans la première moitié mais Montpellier prend le dessus avec une Edwige Lawson-Wade qui mène son équipe à une troisième victoire.
Return to the top of Ligue Féminine de Basketball page
---
Go to Ligue Féminine de Basket 2011-2012 page
Leave Ligue Féminine de Basket - Season 2011-2012 page and return to home page
Return to the top of Ligue Féminine de Basketball page
Ligue féminine picture credits:


womensbasketball-in-france

Date created: 9 October 2011
---