Are USO Mondeville better this year?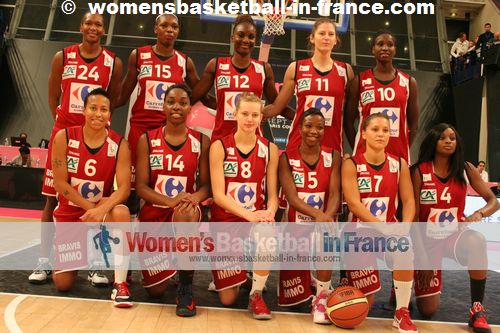 USO Mondeville (USOM) are back for 2012-13 with basically the same team roster from the previous season. With just two new players added their EuroLeague Women participation should test the true character of this team.
En bas du page vous trouvez des informations en français sur l'effectif de USOM pour la saison 2012-2013.

Last season a back injury robbed USOM the services of Eglė Šulčiūtė, who is the only player not to have returned to the club from last season's initial roster.
Anna Vida was the first medical replacement for Šulčiūtė. However when it became clear that Šulčiūtė was not going to play for the club again they signed Katerina Zohnova until the end the season.
USOM was the surprise team of the Ligue Féminine de Basketball because of the average age of the team being 22.
Despite finishing fourth at the end of the LFB regular season last year USOM were often punished for their lack or experience as shown in their elimination from the EuroCup Women despite having an 11-point lead at the end of the first leg.
The lessons learned from last season should see this team reach new heights for 2012-2013.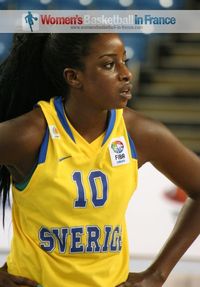 The new signings for USO Mondeville are Amanda Lassiter and Aminata Konate.
Unfortunately the reunion of Konate and Touty Gandega is likely not to happen this season because Gandega's season may have already ended with a torn ACL.
Swedish U20 international Binta Drammeh (in picture) is the medical replacement for Gandega.
USOM's policy of rotating players from the academy also continues this year with Pauline Betis, Marine Johannes and Margaux Touraud to feature with the first team.
The LFB and EuroLeague Women roster for 2012-2013 for USO Mondeville is as follows: 4 Touty Gandega, 5 Aminata Konate, 6 Kristen Broook Sharp, 7 Ingrid Tanqueray, 10 Giedre Paugaite, 11 Kadidia Minte, 12 Laëtitia Kamba, 13 Margaux Touraud, 14 Marie-Bernadettte Mbuyamba, 15 Naignouma Coulibaly, 23 Binta Drammeh, 24 Amanda Lassiter
Stabilité de l'effectif de USMO
rime avec succès?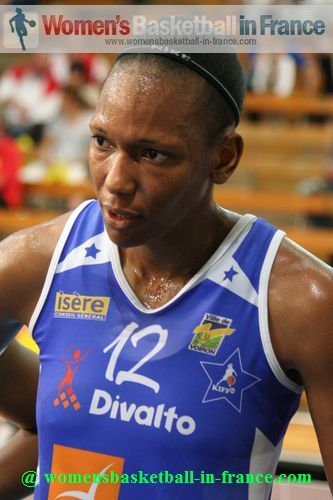 L'effectif de USOM ne change pas trop: Amanda Lassiter (dans l'image), une ancienne joueuse en WNBA, et Aminata Konaté joignent le club alors que Binta Drammeh, une joueuse internationale U20 de la Suède, est le joker médical pour Touty Gandega qui a une déchirure du ligament croisé.
C'est sûr que le coach Hervé Coudray attend de faire autant bien que la saison dernière, terminant quatrième dans la saison régulière. Pourtant il se proclame prudent avec sa jeune équipe.
Mais avec Ingrid Tanqueray, Kadidia Minté et Laëtitia Kamba ayant gagné de l'expérience avec leur préselection dans l'équipe de France pour la préparation des Jeux Olympiques, ça pourrait donner aux joueuses encore plus envie de gagner, surtout avec le challenge de jouer dans L'EuroLeague!

Départs : Katerina Zohnova (Giedre Paugaite)

Arrivées : Aminata Konaté (Nice), Amanda Lassiter (Voiron)

Effectifs 2012-2013 : Ingrid Tanqueray (1, 1m66, 1988), Aminata Konate (1, 1m68, 1990), Kristen Brooke Sharp (2, 1m75, 1981), Touty Gandega (2, 1m69, 1991), Amanda Lassiter (1m86, 1979), Kadida Minté (3, 1m87, 1991), Lætitia Kamba (3-4, 1m87, 1987), Marie-Bernadette M'Buyamba (4, 1m83, 1993), Giedre Paugaite (4, 1m92, 1990), Mima Coulibaly (5, 1m91, 1989), Binta Drammeh (3, 1m80, 1992)

---
Visit our home page
Visit our "What's New" page
picture credits:
womensbasketball-in-france.com

Date created: 20 September 2012
Like this page / Aimez cette page