Why is Anna Vida playing in the LFB today?
Anna Vida joined the LFB club side USO Mondeville during the third week of November on a short-term medical contract to cover for the absence of Egle Sulciute.
However the real question is why is Vida giving up a secure contract with Nanette FTC in Hungary to play for six or seven weeks in the Ligue Féminine de Basketball in France: She has completed her higher education with a diploma in Tourism.
Her studying was one of the reasons why she turned down an offer to leave Hungary in 2008 to play for Basket Landes. Instead she signed for Györ in the Hungarian league.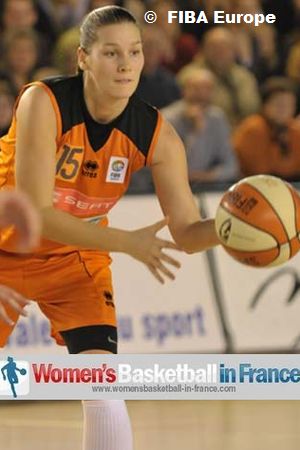 Having completed her education she felt free to pursue her basketball career outside of her home country and decided not to resign for Györ and play also in the EuroLeague Women competition.
Yet when no offers came to her at the start of the season she signed with Nanette FTC. Her contract included a clause that enabled her to leave immediately if she was offered an international contract.
Initially Mondeville were interested in Agne Abromaite whose profile is more in line with Sulciute. Abromaite preferred the offer from Basket Landes.
Hervé Coudray decided not to continue looking for a pivot but instead for a player that would offer them more opportunities from the perimeter.
In December 2009 Vida, playing for Györ, fired in 26 points in her team's victory against Mondeville (66-41). She went a perfect 5-of-5 from beyond the arc that evening. Her performance was something that Coudray remembered. Hence USO Mondeville contacted her.
Vida arrived on 15 November and was already in action for the club two days later in the EuroCup Women. Her first two games for the club ended in defeat. But last weekend she celebrated her first victory with USO Mondeville against Bourges Basket.
Vida who is 26 years old had a successful youth international career and has been a regular member of the senior national team since 2008. She also represented Hungary at the World Student Games in 2009.
---
Go to Ligue Féminine de Basket 2011-2012 page
Leave LFB basketball news - Season 2011-2012 page and return to home page
Return to the top of page
Picture credits:


FIBA Europe

Date created: 29 November 2011
---