What is happening in 2012
for the Ligue Féminine de Basketball?
During the break for the New Year a few clubs in the Ligue Féminine de Basketball made changes to their rosters, while others welcomed back players from long term injuries.
Emméline Ndongue made a successful return to Bourges Basket with a perfect shooting day 5-of-5 from the field in the victory of her team in round 15 against Villeneuve d'Ascq.
Kathy Wambe who played for Villeneuve d'Ascq in the defeat against Bourges Basket, had more moments of glory with a game winning buzzer beater lay-up in the derby match against Arras in round 16.
However the lady making the biggest impact is Aurélie Bonnan from Nantes-Rezé.
On her club début in round 15 against Lyon, she was the player of the match as her team won on the road. In round 16 she went one better with a game winning buzzer beater as her side edged out Aix-en-Provence.
Roster changes in the LFB
The following players either left the Ligue Féminine de Basketball or their temporary contracts came to an end.
From Arras Alexia Rol and Soana Lucet both ended their stay while Sabrina Reghaïssia joined the club in December of 2011.
Basket Landes were unable to keep Agne Abromaite but signed Polish international Justyna Zurowska until the end of the season.
Other players to leave the LFB during the break were Magali Lacroix from the Flammes Carolo Basket Ardennes ASPTT and Isis Arrondo from Tarbes.
USO Mondeville had to give up on Egle Sulciute returning this season and decided to sign Katerina Zohnova as a permanent replacement. Zohnova's arrival also marked the end for Anna Vida at the club.
Ligue Féminine de Basketball round 15
Surprise for Challes-les-Eaux
Hainaut Basket recovered from a poor first quarter (11-20) to beat the leading team Challes-les-Eaux (64-63). Marina Solopova had one of her best games for Hainaut Basket with a game high 28 points.
Lattes-Montpellier joined Challes-les-Eaux back on top with a road victory against Aix-en-Provence (82-74). Montpellier had to wait until the third quarter to take control of the game in which the lead changed hands 18 times.
Elsewhere Charleville Mézières once again came up on top at home with a comfortable victory against Basket Landes (69-54), a victory that moved them out of the relegation zone.
The return of Aurélie Bonnan to the basketball court transformed Nantes-Rezé into another team. They ran out winners on the road against Lyon (86-70). However the story of the match was Johanne Gomis scoring against her team by deflecting a shot from Leslie Ardon.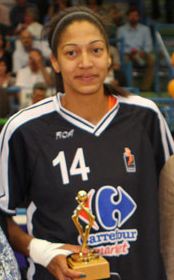 Mondeville started the new year with a home victory against Tarbes (68-52) and spoilt the Tarbes début of Lizanne Murphy.
The return of Emméline Ndongue (left) from Bourges Basket went well. She did not miss a shot in her 20 minutes on court and finished with 10 points. However it was Nwal-Endéné Miyem who stole the show with 28 points as Bourges Basket beat Villeneuve d'Ascq (71-62).
Arras won the LFB TV game against Cavigal Nice (59-50).
Charleville Mézières 69-54 Basket Landes
Aix-en-Provence 74-82 Lattes-Montpellier
Lyon 70-86 Nantes-Rezé
St Amand Hainaut Basket 64-63 Challes-les-Eaux
USO Mondeville 68-52 Tarbes
Bourges Basket 71-62 Villeneuve d'Ascq
Arras 50-50 Cavigal Nice
Ligue Féminine de Basketball round 16
Spectacular buzzer beaters save hosts from defeat
For the second time of the season Nantes-Rezé were able to win back to back matches of the Ligue Féminine de Basketball. On her home début Aurélie Bonnan became the hero with her game winning shot on the buzzer against Aix-en-Provence (60-58). But the key moment of the match with around three minutes on the game clock was when Bonnan drew a foul on Cindy Lima (11 points, 11 rebounds) to eliminate her opponent from the game.
Despite a fantastic opening by Aix with a (22-6) lead, they once again were not able to finish the game on top and hence are returning to the relegation zone.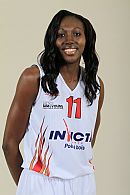 In the LFB TV match of the week, Cavigal Nice lost at home to Charleville-Mézières (59-66) although their opponent did not seem to be interested in a victory going 8-of-16 from the free-throw line in the final quarter.
Charleville's win was built on the first-quarter performance by Djéné Diawara (in picture) who scored 16 of her side's 26 points to finish the game with a total of 25 points and 14 rebounds.
Nice remain at the bottom of the regular season standing, two games behind the teams above them.
In the race for the regular season title, Challes-les-Eaux and Montpellier remain tied after both teams coming away with victories.
Challes-les-Eaux beat Lyon (73-58) with once again Mistie Mims top scoring with 28 points.
Whereas Montpellier with Edwige Lawson-Wade (20 points coming from 7-of-9 from the floor) were back to their best as they cruised past USO Mondeville (83-60) with Kaayla Chones replacing Stephany Skrba on a medical contract.
Bourges Basket join Mondeville in third place after winning on the road against Basket Landes (46-41).
Tarbes won their first game of the year by beating Hainaut Basket at home (66-57) to move back into fifth place. Pauline Salagnac and Florence Lepron with 14 and 10 points respectively stepped up to assure the victory.
In the north derby between Villeneuve d'Ascq and Arras, the supporters from both teams were left on the edge of their seets right up till the final buzzer when Kathy Wambe laid up for Villeneuve's victory (75-73).
For Villeneuve Olayinka Sanni and Emilie Gomis led the way with 24 and 22 points each but were outscored from Arras' Pauline Akonga-N'Simba with 28 points.
Cavigal Nice 59-66 Charleville-Mézières
Challes-les-Eaux 73-58 Lyon
Basket Landes 41-46 Bourges Basket
Villeneuve d'Ascq 75-73 Arras
Tarbes 66-57 Hainaut Basket
Nantes-Rezé 60-58 Aix-en-Provence
Lattes Montpellier 83-60 USO Mondeville
---
Look back at what happened in round 14
Go to Ligue Féminine de Basket 2011-2012 page
Leave Ligue Féminine de Basket - Season 2011-2012 page and return to home page
Return to the top of Ligue Féminine de Basketball page
Picture credits:


LFB
Bourges Basket

Date created: 18 January 2012

---