Mondeville's tradition of playing basketball
in the LFB continues for 2010-2011
---
---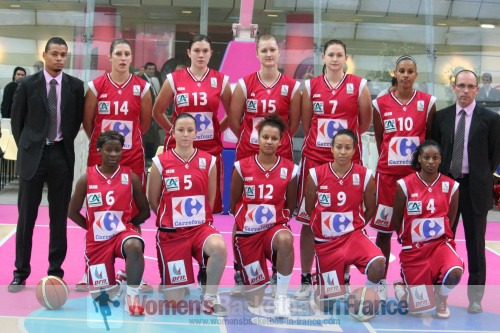 Hervé Coudray had thanked his players publicly for playing basketball for USO Mondeville after their last home game of the season during the LFB play-off series against Tarbes. At the same time he had also been saying bye bye to certain players.
He did not know then that his club would be invited to play in the EuroLeague competition when he put together the LFB roster.
Mondeville are a French powerhouse in the youth basketball scene and are very likely to add some more players from the academy to the roster as the season progresses.
For the last two seasons Esther Niamké-Moisan, who is just 17, has been playing in the first team while the club has continued to develop other players.
Touty Gandega is one of the faces of the Open LFB poster who has recovered from the injury that had kept her off the court for practically the whole last season. She is a player we are likely to see more off.
K. B. Sharp, Anne-Sophie Pagnier and Aija Brumermane are the new players while the leavers such as Caroline Aubert, Clarisse Costaz and Aija Putnin all remain in the LFB with Nantes-Rezé, Challes-les-Eaux and Arras. Fanny Cavallo has gone to America and will continue playing basketball for two years in the junior college system.
The LFB roster for Mondeville has the following players: Touty Gandega, Anne-Sophie Pagnier, Niamké-Moisan, Aija Brumermane, K. B. Sharp, Lenae Williams, Yacine Sene, Pauline Thizy, Aurélie Bonnan, Valeriya Berezhynska.
Go back to the top of page
---
Go to Women Playing Basketball In France Home Page
---
Basketball picture credits:

womensbasketball-in-france.com

Date created: 16 October 2010
---