Basketball news
Tarbes drop to last place
The latest basketball news from Tarbes is not good because they find themselves in last place in the Ligue Féminine de Basketball, three games behind Cavigal Nice.
It is hard to believe that Tarbes played two players in six games after cancelling their professional contracts.
In order to protect the interest of the clubs in the LFB and the players, the FFBB audit clubs regularly during the season. In addition all the clubs are checked at the end of the first round of games.
It was during this audit that it was discovered that Tarbes had broken two rules:

1. The contract of Lujubica Drljaca was terminated on 1 November and yet she participated in a number of matches after this date.
2. The contract of Isis Arrondo was terminated on 1 December and yet she continued to play until the Christmas break.
The sanctions for breaking these two rules is as follows: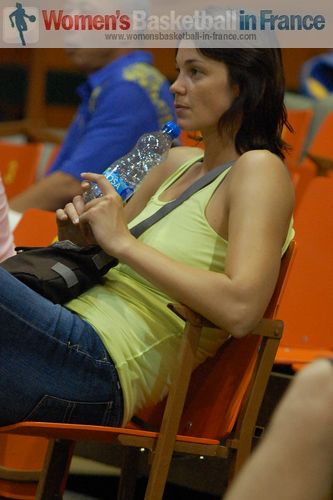 The games played on 12, 19 and 26 November involving Drljaca (in picture) have been forfeited. Charleville-Mézières and Villeneuve d'Ascq were beaten in these games and have been awarded the victory. The sanction for Tarbes was a 5-point deduction.
For the games played on the 4, 10 and 21 December involving Arrondo which were all lost has resulted in another 3-point penalty.
The 8-point deduction leaves Tarbes in last position with 20 points. So the real basketball news is that the 201O LFB Champions are on the verge of relegation with seven games to play until the end of the regular season.
The club of Tarbes have appealed against this decision.
You can read the official text in French released by the French Basketball Federation (FFBB):

6 rencontres perdues par pénalité pour Tarbes (LFB)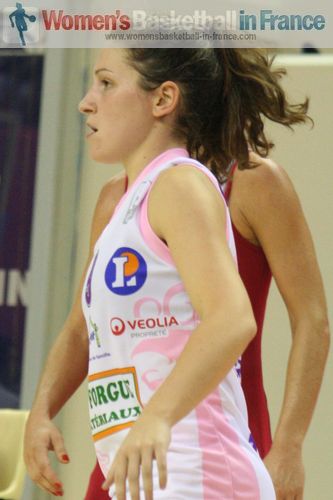 "Le club de Tarbes, qui évolue en Ligue Féminine, a été sanctionné le 16 février 2012 par la Commission Fédérale Sportive de la FFBB de la perte par pénalité de 6 rencontres (12 novembre 2011, 19 novembre 2011, 26 novembre 2011, 4 décembre 2011, 10 décembre 2011 et 21 décembre) pour avoir fait jouer deux joueuses, Lujubica Drljaca et Isis Arrondo (en image), non régulièrement qualifiées.
Afin de pouvoir évoluer régulièrement en championnat de Ligue Féminine, et selon les règlements généraux de la FFBB, les joueuses doivent obtenir la validation de leur licence par la Commission de Contrôle de Gestion. Conformément à l'article 719.4.1 des règlements généraux, la validation de la licence prend fin de manière automatique au terme normal du contrat de travail de la joueuse ou à la date de la cessation anticipée de ce contrat.
Le club de Tarbes a communiqué à la FFBB deux actes de rupture anticipée des contrats de travail des joueuses Drljaca et Arrondo : fin du contrat fixé au 1er Novembre 2011 pour Ljubica Drljaca et au 1er Décembre 2011 pour Isis Arrondo. Ces joueuses ne possédaient plus de validation de leur licence à compter de la date de fin de contrat et ne pouvait donc pas régulièrement évoluer lors des rencontres précitées.
The Tarbes basketball news soap opera
It all started in January 2010 when Charde Houston left Tarbes with the official reason as homesickness. A week after leaving she was playing EuroLeague Women Basketball in Prague.
In February 2010 it became clear that François Gomez would not be coaching Tarbes for the 2010-2011 season despite the fact the club was dominating the French Championship. This was confirmed in March with Alain Jardel named as his successor.
Despite the turbulent season behind the scenes the final basketball news from the 2009-10 season was Tarbes becoming champions of France.
Everything was quiet at Tarbes last season until the LFB championship play-off series when Jardel decided to announce his retirement.
This season the comings and goings of players have been confusing.
It all started when it was announced that Daria Mieloszynska was signed for the season, only to find out that she was on a three-month medical replacement deal. This news only came to light with the arrival of Alex Montgomery who was signed permanently till the end of the season.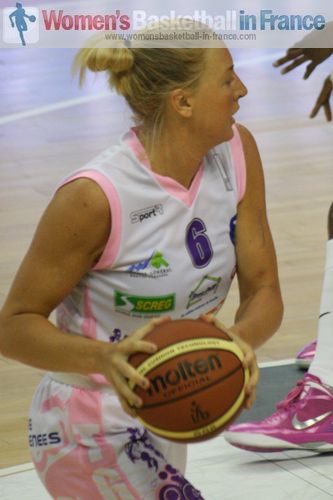 A poor EuroLeague Women campaign and difficulties in the domestic championship was given as explanation for terminating the contracts of Lauren Neaves (in picture - who was injured for most of the time) and Lujubica Drljaca. Isis Arrondo made her own announcement that she had left the club.
Any hope of a calm 2012 ended with the elimination from the French Cup by Rocheé Vendée: Pascal Pisan lost his job which was soon followed by the resignation of long time Co-President Bernard Duclos who was in favour of Pisan staying on until the end of the season.
The final chapter of this soap opera will be that Tarbes have seven games to save their status in the LFB starting with an LFB-TV live match against Basket Landes in case their appeal fails.
---
Look back at season outlook for Tarbes
Go to Ligue Féminine de Basket 2011-2012 page
Leave Ligue Féminine de Basket - Season 2011-2012 page and return to home page
Return to the top of basketball news page
basketball news picture credits:


womensbasketball-in-france.com

Date created: 17 February 2012

---