LFB basketball news
Pascal Pisan loses head coach position
in Tarbes
The final chapter in the basketball news roller coaster ride of Pascal Pisan as head coach of Tarbes in 2011-2012 has been written.
Tarbes were eliminated by Roche Vendée in the first round of the French Cup last weekend (28 January) despite leading by 18 points at the interval. This defeat triggered an emergency meeting by the directors of the club.
On Monday, 30 January 2012 the communique released by the club stated that he was dismissed only in his function of head coach of the first team. This implies he is not been fired from Tarbes.
This is the second time in his career at Tarbes that Pisan was relieved from head coach duties.
Pisan had been removed by the club after five games during the 2007-2008 season.
Despite losing his job in 2007 as head coach of the first team he continued to work with Tarbes in their basketball academy and last season (2010-2011) he was the assistant to Alain Jardel.
When Jardel decided to retire at the end of the season, the club promoted Pisan back to head coach.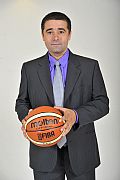 Pisan's troubles with his team started right from the beginning of the season despite putting together what looked like an impressive roster.
The early results in the LFB were not consistent so he decided to strengthen his squad so that the team would be competitive in the EuroLeague Women competition.
Unfortunately the performance in the EuroLeague did not improve while Tarbes were outside the top 4 in the LFB at the half-way stage.
The internal problems in the team led to terminations of players' contracts. But it was the announcement from Isis Arrondo that she was leaving the club that sent the shock waves around the Ligue Féminine de Basketball.
---
Look back at what happened in round 15 and 16
Go to Ligue Féminine de Basket 2011-2012 page
Leave Ligue Féminine de Basket - Season 2011-2012 page and return to home page
Return to the top of basketball news page
Picture credits:


LFB

Date created: 31 January 2012

---