Tarbes swept through the 2010 LFB Championship Play-Off series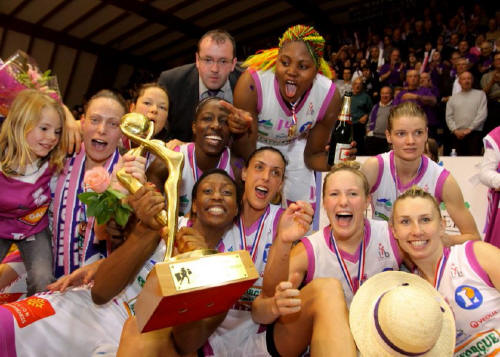 Tarbes' 2010 LFB championship play-off series came to a perfect end with a (54-40) victory against Bourges Basket to sweep the series and win their first national title.
François Gomez, the head coach from Tarbes, beat Pierre Vincent at his own game of playing suffocating defense in a very technical game.
The crowd had to wait for about 2.5 minutes for the first score of the match by Styliani Kaltsidou from Bourges Basket. Neither team was able to find their scoring touch during the first half of the game.
Bourges led (8-6) by the end of the first quarter and went into the interval leading (19-18).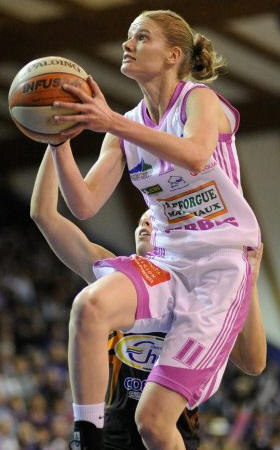 Isabelle Yacoubou-Dehoui, more or less playing on one leg, got Tarbes going after the break. She was then joined by Florence Lepron (pictured) on the scoresheet as they regained the lead and moved 6 points clear (27-21) with 26 minutes played.
Bourges were in trouble by missing all their shots and with Kaltsidou on 4 fouls. Anaël Lardy and Emméline Ndongue tried to bring Bourges back into the game.
But it was Lepron who delivered the knock-out blow with a three-pointer at the buzzer (38-25) to give her team a 13-point advantage going into the final quarter.
Bourges gave the impression that they were going to turn things around with a 4-0 start. However Gomez called for a time-out to halt the opponent's progress.
Tarbes took control of the game once more and led by as many as 17 points before settling for a 14-point victory.
LFB Championship Play-off Box Score: Tarbes 54-40 Bourges Basket
Tarbes: Hamchetou Maïga-Ba 8, Anne Breitreiner 2, Frida Eldebrink 10, Pauline Jannault 0, Isis Arrondo 6, Naura El Gargati 0, Florence Lepron 14 (4 assists, 7 rebounds), Béatrice Castets 0, Fatimatou Sacko 1, Isabelle Yacoubou-Dehoui 12, Emma Randall 1;
Bourges Basket: Anaël Lardy 11, Katarina Manic 2 (4 assists), Nwal-Endéné Miyem 2, Styliani Kaltsidou 5, Jennifer Digbeu 0, Ana Lelas 5, Paoline Salagnac 1, Emméline Ndongue 12 (8 rebounds), Ilona Burgrova 2.
You can watch the celebration scenes from the victory below:
---
LFB championship play-off: Tarbes qualify win game one
Return from LFB Basketball News to Ligue Féminine de BasketBall index
Go to Women Playing Basketball In France Home Page
---
LFB championship play-off picture credits:

Laurent Dard
Jose Navarro

Date created: 07 May 2010
---