The 2010 LFB Championship play-off final will be between the top two teams from the regular season. Tarbes as number 1 seeds will have home advantage if a third game is required.
Last year Bourges Basket as number 1 seeds required three games to beat Tarbes to become champions of France.
Tarbes were once again pushed in the final quarter by Mondeville and in particular Temeka Johnson. However their 11-point cushion from the first quarter was enough to see them through (69-62).
Bourges Basket suffered for the first 20 minutes against Arras and trailed by 11 points at the interval.
However once Nwal-Endéné Miyem started to fire on all cylinders Bourges were able to make up the deficit to win (62-57).
Both LFB Championship games were streamed live and should be made available on demand soon.
You can read our LFB Championship play-off basketball news from the two games by clicking on the links below or by scrolling down the page:


Tarbes were made to sweat again

Bourges had to work hard against Arras

Tarbes made it to the final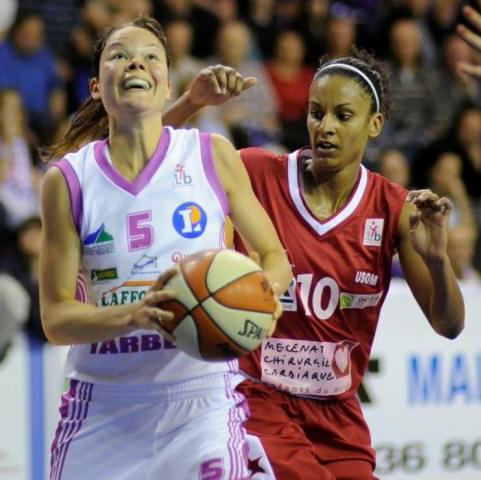 Anne Breitreiner (pictured with ball) dominated the first quarter with her three-point shooting for Tarbes. Fatimatou Sacko and Isabelle Yacoubou-Dehoui continued to work in the paint as Tarbes led (25-14) after the first quarter.
The second quarter was an even affair with Yacoubou-Dehoui and Valeriya Berezhynska continuing their own contest.
Tarbes went into the locker room leading (40-29).
Mondeville were a different team after the break. They defended better and kept Tarbes scoreless for just over three minutes.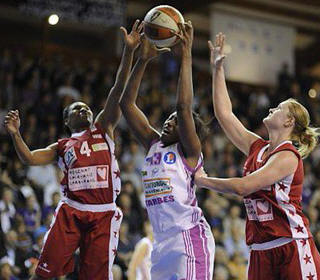 Aurélie Bonnan and Temeka Johnson (pictured No.4) had reduced the Mondeville deficit (34-40) before François Gomez call a time-out.
Emma Randall scored 5 unanswered points for Tarbes as they regained the upper hand. Tarbes then went on to stretch their advantage (53-40) going into the final quarter.
With five minutes left to play Tarbes led by 17 points and looked to have had the game won.
Fanny Cavello started a Mondeville fightback with a three-point play. Yacine Séné added 2 more points before Lenae Williams and Johnson connected each from beyond the arc.
Gomez was forced to call a time-out with two minutes remaining as his team's lead was down to just 6 points (64-58).
Yacoubou-Dehoui ended the 11-0 run by Mondeville. However it was a trey by Frida Eldebrink with just under a minute to play that appeared to have knocked out Mondeville (69-58).
Johnson still had other ideas. Even with time running out she managed to score twice but it was not enough.
The LFB Championship play-off final between Tarbes and Bourges will be played at the following times:
Game 1: Wednesday, 28 April 2010 (20:45 CET/18:45 GMT)
Game 2: Thursday, 6 May 2010 (20:45 CET/18:45 GMT)
Game 3: Monday, 10 May 2010 (20:45 CET/18:45 GMT)

Tarbes: Hamchetou Maïga-Ba 2, Anne Breitreiner 9, Frida Eldebrink 9, Pauline Jannault DNP, Isis Arrondo 0, Naura El Gargati 0, Florence Lepron 5 (9 assists), Béatrice Castets 0, Fatimatou Sacko 11 (10 rebounds), Isabelle Yacoubou-Dehoui 18 (10 rebounds), Emma Randall 13.
Mondeville: Temeka Johnson 15 (4 assists), Fanny Cavallo 3, Aija Putnina 3, Lenae Williams 6, Clarisse Costaz 2, Yacine Séné 5, Pauline Thizy 4, Aurélie Bonnan 10 (11 rebounds), Valeriya Berezhynska 13.
LFB Championship Play-off Box Score: Tarbes 69-62 USO Mondeville
Return to the top
Bourges Basket back in final
Bourges Basket were without Jennifer Digbeu for the second game in the LFB Championship play-off and had to wait until the 34th minute to take the lead against Arras.
Once they went ahead, they did not lose it and went on to win the game (62-57) and the series 2-0.
Arras' three-point shooting enabled them to dominate the first quarter (24-11). Arras connected five times from six attempts while Bourges went 0-4 from the same exercise.
Bourges started the second quarter aggressively and started to attack the basket more and outscored Arras 8-2.
Bruno Blier, the coach from Arras, decided to call a time-out with three minutes played in the quarter with his team leading (26-19).
He changed his players' defensive systems, which stopped Bourges from scoring. Bourges failed to score from open play for the rest of the quarter.
Arras playing with just seven players despite foul problems continued to play on the fast break and went into the locker room ahead (36-25).
Leilani Mitchell came up with the score of the first half. Sarah Michel passed her the ball from the baseline and she out-jumped Katarina Manic at the top of the key to score.
Mitchell and Johanne Gomis led the scoring with 11 and 8 points each for Arras at the interval while Emméline Ndongue was the top scorer for Bourges with 9 points.
Nwal-Endéné Miyem (left) ended the three-point barren series for Bourges with a trey to start the quarter. However her side forgot to guard Olesia Malashenko who replied immediately with a trey.
Miyem and Manic continued to score for Bourges as they reduced their deficit (36-42).
Arras had a piece of luck when Anaël Lardy was given a technical foul for flopping. Pierre Vincent, the head coach from Bourges was not happy with the call.
Mitchell split the pair of free-throws. Bourges took some time to get back into their rhythm after this incident. Yet they managed to stay on the tail of Arras (42-43) with 90 seconds left in the quarter.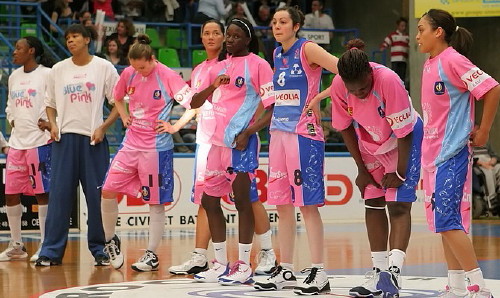 Michel enabled Arras to go into the final quarter leading (46-43) after hitting a three-point buzzer shot.
Arras, without Marielle Amant and early foul problems to their centres meant that Blier was unable to turn his roster as much as he wanted to give some players a break.
Bourges Basket took full advantage and drew level through their captain Ndongue. Miyem finally gave the home fans something to cheer about as they went in front for the first time in the match.
Bourges did not lose the lead while Arras lost Malashenko and Michel for 5 fouls and the match.
Bourges Basket: Anaël Lardy 0, Katarina Manic 11 (5 assists), Nwal-Endéné Miyem 17 (9 rebounds), Styliani Kaltsidou 5, Margaux Galliou DNP, Ana Lelas 8, Paoline Salagnac 4, Emméline Ndongue 15, Ilona Burgrova 2.
Arras: Leilani Mitchell 12 (5 assists), N'Deye N'Diaye 2, Sarah Michel 9, Johanne Gomis 10, Olesia Malashenko 11, Hanna Bouldwin-Biernacka 0, Pauline Akonga-Nsimbo 13.
LFB Championship Play-off Box Score: Bourges Basket 62-57 Arras
Go back to the top of page
---
LFB championship play-off: Bourges and Tarbes win on the road
Return from LFB Basketball News to Ligue Féminine de BasketBall index
Go to Women Playing Basketball In France Home Page
---
LFB championship play-off picture credits:

Ligue Féminine de Basketball - LFB
Olivier Martin - @basquetebol.org
José Navarro
Date created: 24 April 2010
---