The LFB Championship play-off game between Mondeville and Bourges was broadcast live by Normandie TV and made available on the internet.
The first five minutes were rather dull with both sides missing almost everything with just a single point scored.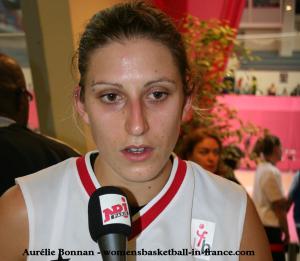 Mondeville, playing at home, finally gave the scorekeepers some work to do with Aurélie Bonnan (left) and Temeka Johnson scoring.
With Isabelle Yacoubou-Dehoui finally warmed up Tarbes started to find their way to the basket. They went into the lead (12-7) with two minutes to play in the first quarter.
The introduction of Clarisse Costaz for Mondeville paid off as she picked up her team with 5 points to end the quarter trailing by 2 points (15-17).
Tarbes continued with their player-to-player marking system as they moved 11 points clear (28-17) halfway through the second quarter.
Tarbes continued to keep the ball away from Lenae Williams and went into the interval (35-27) ahead.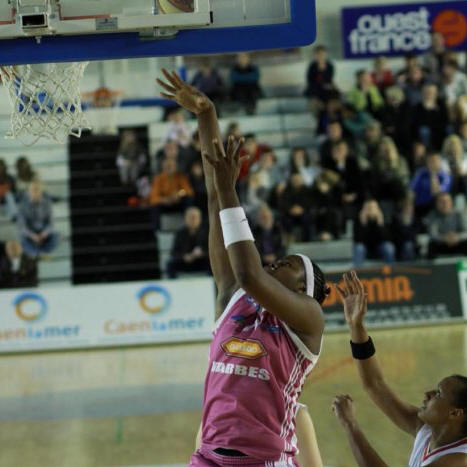 Yacoubou-Dehoui (pictured) was having problems running. She was limping and was taken off to have a rest with her team leading (41-32).
Johnson was quick to take advantage of Yacoubou-Dehoui's absence by picking up defensive rebounds and rushing down the other end "coast to coast" to score back to back baskets. With her quick hands she made an opening for Williams, who hit a trey.
Within 90 seconds of Yacoubou-Dehoui's departure Mondeville's deficit was down to 2 points (40-42).
Tarbes were on the back foot while Bonnan and Yacine Séné scored to take Tarbes into the final quarter leading (49-43).
François Gomez decided it was better to bring Yacoubou-Dehoui back during the final quarter.
Mondeville pushed their advantage to 10 points (57-47) with seven minutes left to play.
Tarbes stepped up defensively and with the pace of Isis Arrondo finding holes in the Mondeville defense they went on a 11-0 run with Hamchetou Maïga-Ba, Frida Eldebrink, Fatimatou Sacko and Yacoubou-Dehoui all scoring (57-56).
The game got faster as the teams traded basket for basket. Florence Lepron started to perform her magic for Tarbes while Johnson was Mondeville's main weapon.
However with a minute to play Tarbes had regained the lead (67-66) through Lepron.
Lepron's perfect free-throwing 4-of-4 was enough to see Tarbes through (71-68).
Tarbes: Hamchetou Maïga-Ba 8, Anne Breitreiner 5, Frida Eldebrink 5, Pauline Jannault DNP, Isis Arrondo 0, Naura El Gargati 0, Florence Lepron 12 (5 assists), Béatrice Castets 0, Fatimatou Sacko 6, Isabelle Yacoubou-Dehoui 16, Emma Randall 16.
Mondeville: Temeka Johnson 10 (7 assists), Esther Niamke-Moisan 0, Fanny Cavallo DNP, Aija Putnina 2, Lenae Williams 13, Clarisse Costaz 5, Yacine Sene 10, Pauline Thizy 4, Aurélie Bonnan 12 (14 rebounds), Valeriya Berezhynska 12.
LFB Championship Play-off Box Score: Mondeville 68-71 Tarbes
LFB Championship play-off for Bourges starts well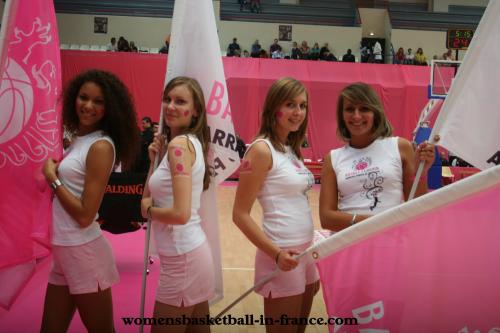 Bourges Basket beat Arras (70-52) to take the first game in the best of three LFB Championship play-off series.
The hall in Arras was full to the brim with 2000 spectators for the first LFB Championship play-off game in the history of Arras Pays D'Artois Basket Féminin (APABF).
The home fans enjoyed the first seven minutes of the game while their team was leading (12-11).
Bourges Basket then took control of the game, starting with a trey by Ana Lelas, with a 7-0 run to finish the first quarter ahead (18-12).
Bourges continued to play aggressively during the second quarter while maintaining their advantage.
Jennifer Digbeu, Katarina Manic and Nwal-Endéné Miyem from Bourges did most of the damage while their coach Pierre Vincent continued his practice of frequently changing players.
Bourges Basket headed to the locker room leading (39-28).
The guests did not allow Leilani Mitchell and Johanne Gomis any space to manoeuvre as they went 17 points clear midway through the third quarter (47-30).
Olesia Malashenko fought back for the hosts and scored 6 points as Arras reduced the deficit slightly (40-53) going into the final quarter.
However Bourges were never in any problems. With Digbeu having a solid game and Manic conducting the plays Bourges paced themselves to victory (70-52).
Bourges Basket: Anaël Lardy 0, Katarina Manic 12 points (6 assists), Nwal-Endéné Miyem 13, Styliani Kaltsidou 10, Jennifer Digbeu 14, Ana Lelas 7, Paoline Salagnac 2, Emméline Ndongue 8, Ilona Burgrova 4.
Arras: Leilani Mitchell 7 (5 assists), N'Deye N'Diaye 10, Sarah Michel 6, Johanne Gomis 3, Olesia Malashenko 12, Hanna Bouldwin-Biernacka 0, Marielle Amant DNP, Pauline Akonga-Nsimbo 13, Juliana Mialoundama 0.
LFB Championship Play-off Box Score: Arras 52-70 Bourges Basket
---
LFB Championship play-off information
Return from LFB Basketball News to Ligue Féminine de BasketBall index
Go to Women Playing Basketball In France Home Page
---
picture credits:

Ligue Féminine de Basketball - LFB
womensbasketball-in-france.com
La Dépêche du Midi

Date created: 21 April 2010
---